GETTING AROUND VEGAS 
If you've never been to Vegas, you may assume it's a breeze to walk from one end of the Strip to the other. You could probably make the trek, but we wouldn't recommend it unless you brought comfortable shoes and are looking to log some miles. For everyone else out there, we've put together a list of transportation options throughout the city and our recommendations for when to use these options.
Ride-Sharing
About: Ride-sharing, most commonly associated with Uber & Lyft are prevalent as a means of transportation in Las Vegas, providing another option for visitors to get around the destination. Ride-sharing companies provide transportation through their apps in the driver's personal vehicle.
Cost: Varies depending on where you want to go. Prices are estimated in the app when ordering a ride.
Recommendation: Ride-sharing options are always a great choice and can be convenient when traveling to or from the resort corridor to outlying destinations.
What you need to know: Ride-sharing companies may implement surge pricing during times of high demand, like when major events or activities are taking place in the destination. Hotels have designated areas where ride-sharing companies can pick up guests, so make sure you know where the pick-up area is.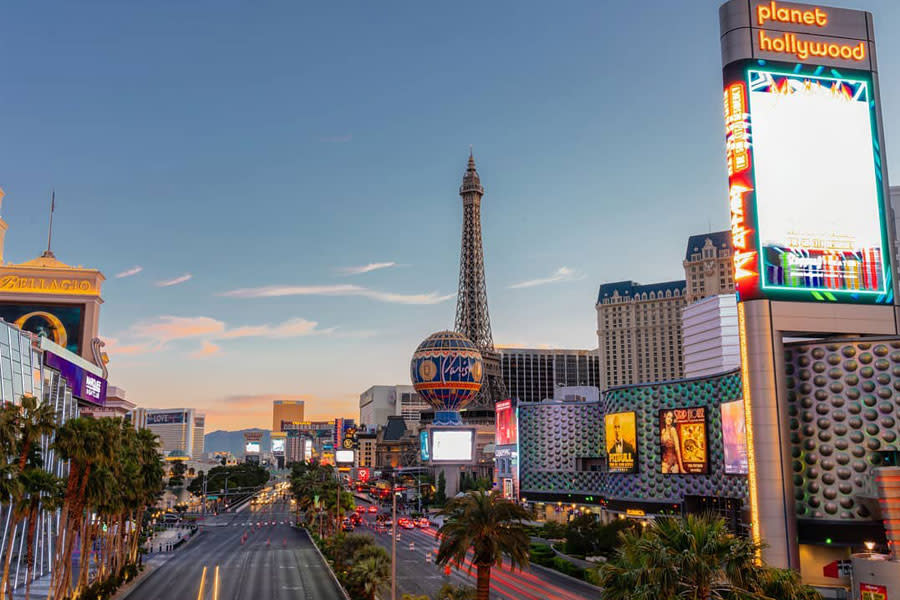 Taxis
About: Taxis are another prevalent form of transportation used throughout Vegas. There is an abundance of them all over the city and, most likely, always a few waiting within a taxi line at a hotel during all hours of the day and night.
Cost: Varies depending on traffic and time of year. Additionally, taxis requested at the airport have an additional fee included.
Recommendation: Taxis are great to use when you want to go from property to property, to and from the airport, or if you're just trying to get back to your house after a night at the club. There are plenty of them throughout town, so you never have to worry about there not being enough drivers at a late hour.
What you need to know: Unlike other cities, you cannot hail a taxi on the street in Las Vegas. Taxis are required to pick up passengers at a physical address, such as a hotel taxi line. Hotels have specific areas for taxi pick-up, usually near the valet or main entrance. If you have any concerns with a taxi driver, you can call the Nevada Taxicab Authority at 702-668-4005 to report any issues.
The Deuce
About: The Deuce is Las Vegas' public transportation operated by the Regional Transportation Committee. While the bus runs throughout town, there are two routes you can specifically take for the Strip and Downtown. These are Deuce on the Strip, which will stop at about every property on the Strip, and SDX Strip & Downtown Express, which stops at about half the stops as the other route.
Cost: A two-hour pass is $6; a 24-hour pass is $8; and a three-day pass is $20. You can buy your ticket on the bus.
Recommendation: If you're looking to go from the Strip to downtown Las Vegas or vice versa affordably and don't mind riding the bus, this is what we recommend. It is the most budget friendly form of transportation from the Strip to downtown/Fremont Street.
What you need to know: Unlike taxis, The Deuce will actually pick you up on the Las Vegas Strip. If you're looking to head back to your hotel after midnight, you'll have to catch The Deuce on the Strip as the express bus will only run until midnight.
This is also the most cost-effective way to get to your hotel from the airport. The Deuce does not stop at the airport, so you'll have to take the Route 109 bus to the South Strip Transfer Station to get on The Deuce. Access to Route 109 is located in Terminal 1.
The Monorail
About: Las Vegas Monorail is looking forward to welcoming our guests aboard the Monorail system as soon as the time is right to bring back citywide conventions and special events. While that date isn't here yet, be sure to follow Las Vegas Monorail on social media for updates.
In late 2020, the Las Vegas Monorail Company was acquired by the Las Vegas Convention and Visitors Authority. Carrying nearly five million people per year, the monorail is an important transportation option and its acquisition allows for the development of the innovative Vegas Loop project.