With over 320 days of sunshine in the destination, hosting your events at an outdoor venue in Vegas is not only an attractive offering, especially enticing for attendees coming from colder climates, but it provides a break from traditional indoor meetings. Outdoor venues in Las Vegas can infuse a breath of fresh air, transforming meetings and gatherings into an unforgettable, one-of-a-kind experience. Read on to discover 12 unique Las Vegas outdoor event venues to elevate any gathering.  
With views of the stunning Las Vegas skyline, this venue is a popular, central spot. The space spans 8,000 square feet and can accommodate up to 800 guests or 300 seated dinner guests. You can customize the space to fit your event needs whether it's a formal dinner, a team building event or a networking event, this venue is able to meet your needs. And when it comes to the menu, the on-site catering team can create personalized options.  
A short, 12-minute drive from the Las Vegas Strip, discover a gorgeous venue that's capable of hosting a variety of events from social gatherings to corporate dinners to conferences and more! The Courtyard Plaza features eye-catching architecture decorated with desert landscaping, and has a landing that can double as a stage, depending on your event needs. The space can fit up to 500 guests and spans over 7,600 square feet, making this an ideal place for adaptable and memorable events. 
A massive event space at 55,000 square feet, this unique venue is a true Only Vegas experience. Available for partial and full buyout, or host small to medium-sized events in one of its other private spaces. The owner's suite fits up to 30 guests and the cabanas accommodate up to 12. With six pools heated year-round across three levels, all with perfect views of the giant 143-foot HD screen, this is the ideal venue for sports fans. You can select VIP service for a variety of drink and food options for your attendees. Catch an insider's view from VEGAS ON below.  
Looking for an event venue that's close to Las Vegas Convention Center and sure to impress? Then this is the perfect spot as it's situated on the resort's southwest wing, offering incredible views of the Las Vegas Strip. The space can seat up to 700 guests across the 24,000-square-foot rooftop and provides customizable, seasonal menu options.  
Elevate the event atmosphere and transport your guests to Italy with Roman-styled architecture and pools. With seven different pool experiences, decadent cabanas, swim-up blackjack tables, and lavish sunbathing spots spanning 4.5 acres of outdoor space, you have plenty of options at this Vegas event space. 
Want a customizable space that fits any theme with a flexible layout and décor? Then A-Lot at AREA15 is your place. This 25,013-square-foot outdoor space can accommodate either 2,500 reception or 1,000 banquet guests. It also has a 1,400-square-foot VIP sky deck that has views of the Strip and can fit 80 guests. Plus, there's an on-site catering team to cover all your menu needs. And in the winter months, a tent covers two-thirds of the space, enabling you to continue your outdoor fun in comfort.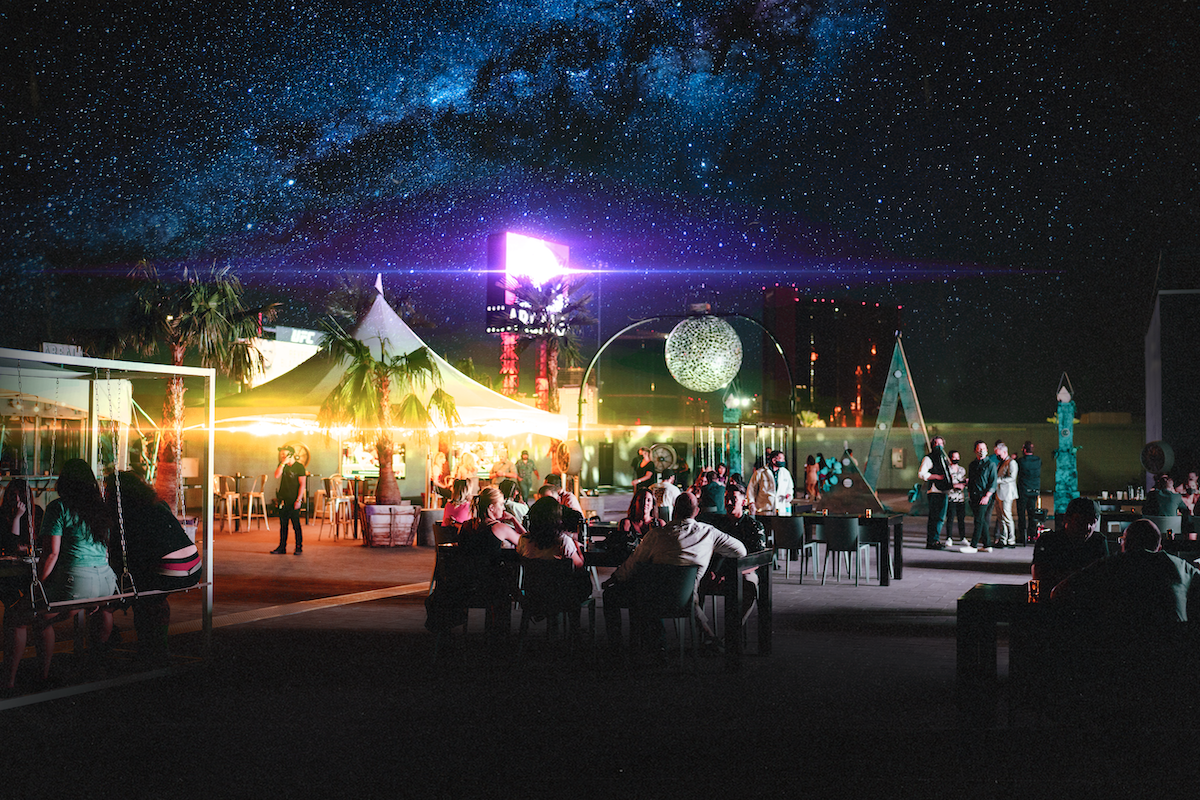 A-Lot at AREA15 
This flexible poolscape and event space has full-service catering and makes guests feel like they're in a desert oasis. With the Moroccan décor and state-of-the-art visuals, including a 240-foot screen, attendees will feel relaxed in the alluring atmosphere. The space accommodates up to 1,180 guests in a full buyout. Otherwise, there's plenty of options for smaller groups such as one of its cabanas or bungalows. This is a great, unconventional venue for corporate celebrations.  
This open-air Vegas event venue features a massive pavilion surrounded by lush, manicured grass, a waterfall, and striking views of Wynn Golf Club's 18th hole fairway. In total, the venue is 20,000 square feet, and can accommodate a maximum of 1,550 guests or 1,010 for a banquet-style event. The event space is fully equipped with A/V equipment and sound systems, and has an in-house catering team.  
This space offers an unparalleled outdoor experience, as it's located under the Eiffel Tower replica. The décor is inspired by old-world and modern French designs with an electric nightclub vibe. Equipped with state-of-the-art sound and lighting and spanning over 22,000 square feet, it fits up to 1,500 for a reception-style event or 500 seated guests for a full buyout. It has various options for smaller groups as well. Plus, the panoramic views of the Las Vegas skyline are simply breathtaking.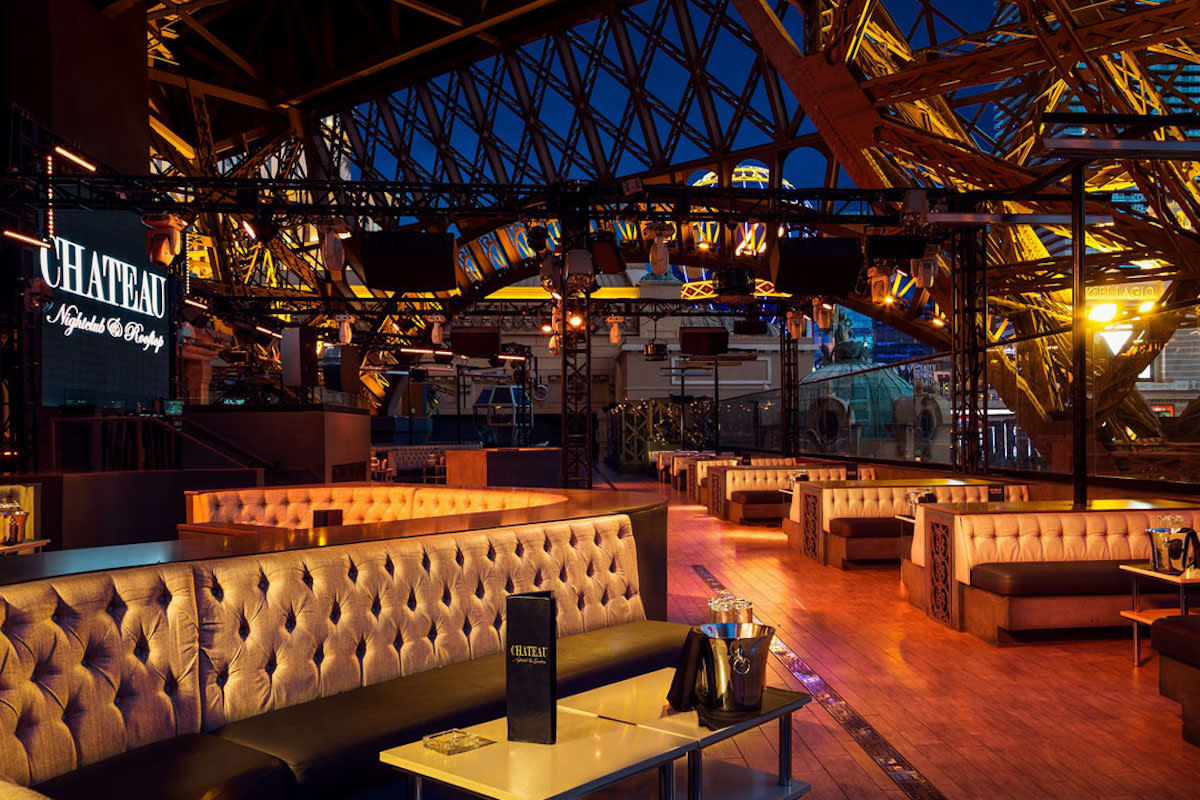 Chateau Nightclub & Gardens at Paris Las Vegas
This rooftop pool provides striking views as it overlooks the Las Vegas Strip. A total of 34,800 square feet, this multifunctional space is perfect for corporate events. Accommodating up to 1,600 guests and available for full buyout or semiprivate events, this venue offers flexibility to fit your specific needs. In addition, there's on-site catering, a large stage for entertainment options; a private entrance; two full-service bars; and VIP indoor/outdoor, air-conditioned cabanas.  
Host an intimate, non-traditional event year-round in the North Gallery and dazzle your guests, up to 70, with a display of vintage neon signs. This Las Vegas meeting space has 360-degree lighting, sound and visuals, and catering options through its exclusive partners.  
For events hosted at Las Vegas Convention Center, this 14,000 square foot terrace is the ideal location for a non-traditional, post-show reception or gathering. With most of the space covered, this is an ideal option regardless of the time of day and can fit up to 2,000 guests.  
From large conventions to small, sophisticated meetings, Las Vegas' outdoor venues have the infrastructure to support any event scale, and do so in style. Contact our team of experts for help with any additional or specific event needs or questions. And be sure to check out our tips for planning events in Las Vegas.