When it comes to unique meeting spaces, Las Vegas is a world-renowned destination for some of the most sought-after, one-of-a-kind event venues. Each one is perfect for hosting business meetings, team outings, sales conferences or corporate gatherings of every type.  
While there is no right or wrong choice of venue, each of the following meeting venues provides an unforgettable experience for your next group event in Las Vegas.  
This stunning outdoor meeting space spans more than 8,000 square feet, accommodating up to 800 guests. It's ideal for hosting both meetings and cocktail receptions, with a capacity of up to 300 seated dinner guests, as well as: 
Connecting point between the east and west convention centers 

Catering services with a range of customizable menus  

Breathtaking views that overlook two on-site pools  
Host your event in a unique film house at this Downtown Las Vegas theater venue. This two-story venue spans over 14,000-square-foot and has three distinct areas you can use for your events: the main theater, a courtyard and Segue, a modish jazz terrace – each with its own unique vibe, atmosphere and one-of-a-kind event experience. Select from: 
The main theater seats 146 that can retract, allowing up to 407 guests for a standing room, multipurpose, black box theater setup 

The Segue terrace accommodates varying standing setups for up to 118 guests 

The courtyard has capacity for 37 guests 
From film screenings to live performances to networking events, the venue offers a unique and versatile space that is sure to impress.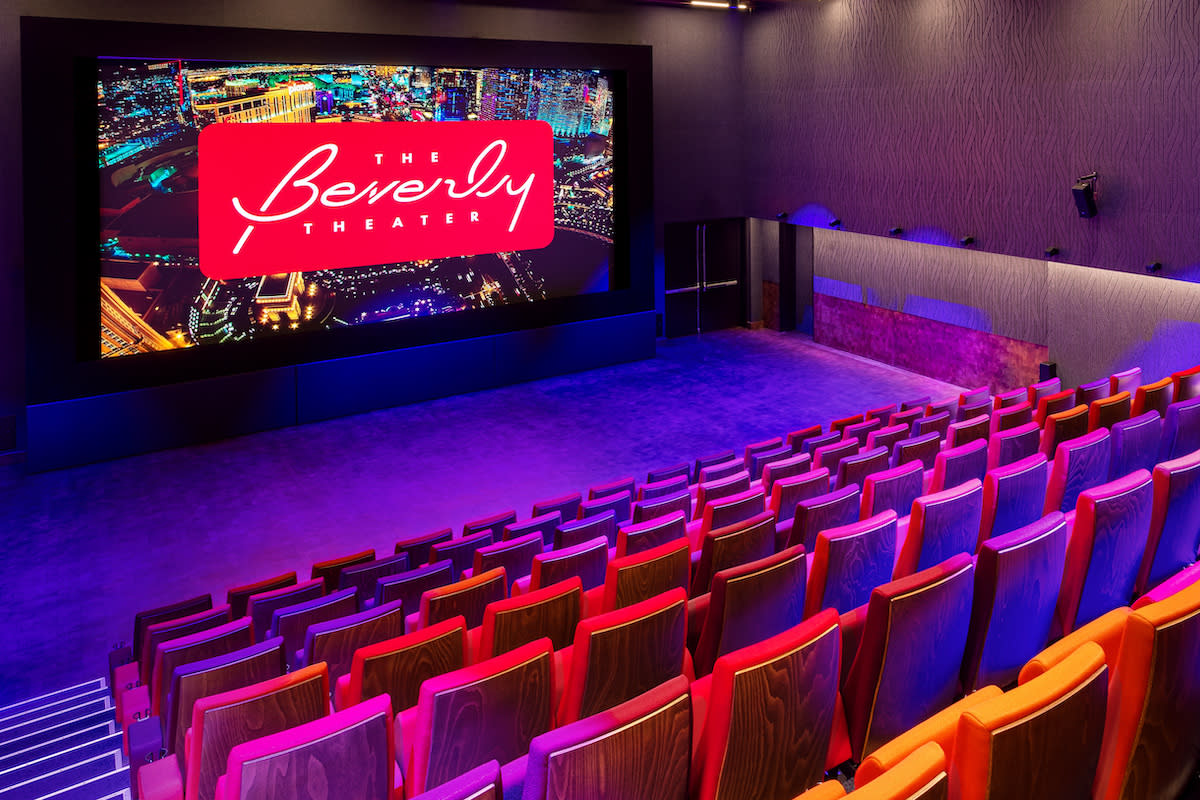 The Beverly Theater
Get ready to infuse a bit of French flair into your next event as this venue is located within the replica of the Eiffel Tower. It boasts 22,000 square feet of event space that pairs modern French design with an electric nightclub vibe. This chic and sophisticated event setting offers: 
A dance floor with state-of-the-art sound and lighting 

Outdoor space with breathtaking views of the Las Vegas skyline with panoramic views of the Strip  

Accommodation of up to 1,500 reception attendees or 500 seated dinner guests 
Want an intimate lounge with skyline views of the Las Vegas Strip? This just might be it. The 18,000-square-foot space features comfortable couches and has capacity for 600 guests with access to two terraces: Stella Artois and Avión Tequila, with a combined reception-style capacity for 80 to 100 guests. Plus they have exclusive elevator access, making it the ideal spot for hosting a private, VIP event. This vibrant atmosphere also offers: 
On-site catering service, four bars and bottle service 

Live music by performers or DJs and a photobooth 
Available to rent during arena events – adding to the guest experience  
Consider taking your next event to new heights high above the Las Vegas Strip. Awarded the 2021 Traveler's Choice award, this exceptional venue has a lot to look up to. Guests can also partake in exhilarating experiences like the unforgettable Big Shot and X-Scream. Meetings and events here provide guests with unparalleled views of the Las Vegas Strip and are perfect for intimate-to-large-sized groups. With various levels and event space to choose from, you're sure to find something to fit your needs:   
On the 106th floor, you'll find Top of the World, a 360º rotating dining room 

On the 108th floor, you'll find award-winning cuisine at 108 Eats and 108 Drinks  
Alternatively, private events can be held on other floors, or choose to rent out the options on floors 106 and 108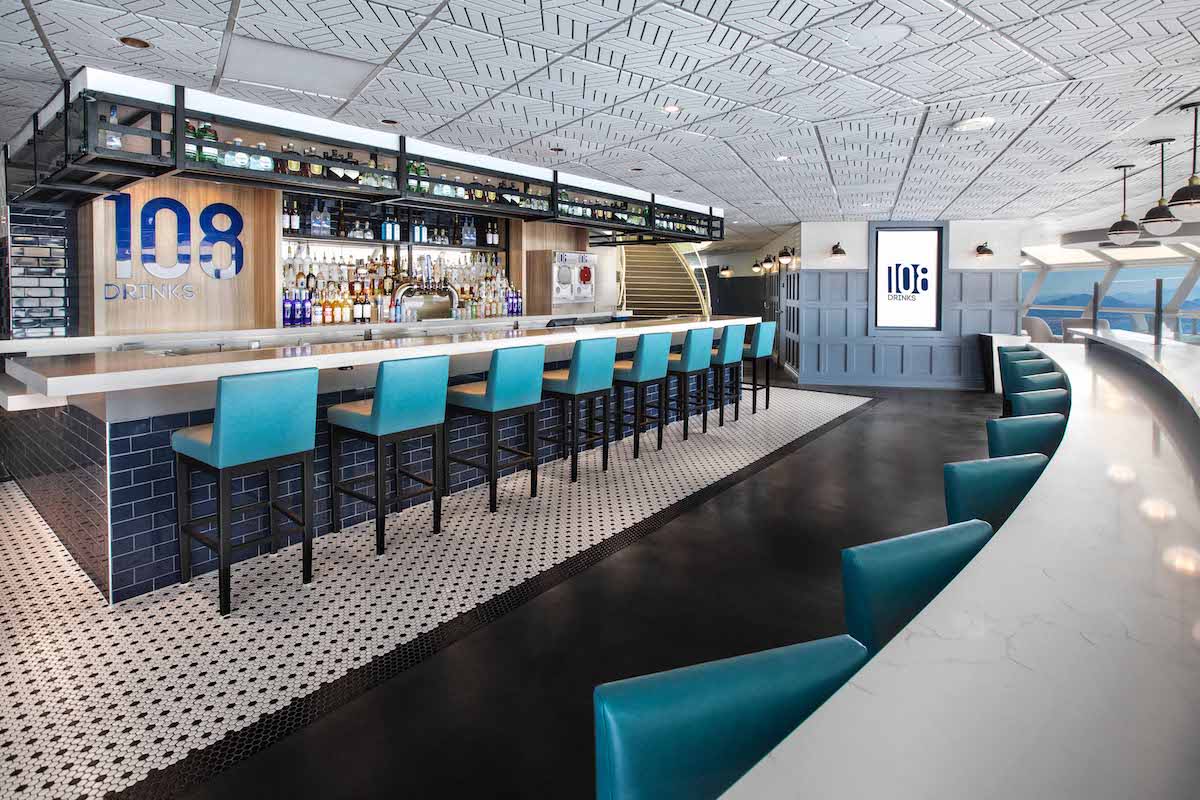 108 Drinks at The STRAT, Hotel, Casino & SkyPod
When you combine atmosphere and cutting-edge technology with exceptional service and amenities, you've discovered The Wall at AREA15. Whether you're planning a product launch, company conference or team-building event, this venue will impress every guest. Attendees will marvel at this industrial-inspired space with a massive LED screen that supports any theme. This unique venue seats 80 to 120 and accommodates up to 200 standing guests. The 3,000-square-foot room is ideal for both intimate gatherings and large corporate events, with:  
A 20 foot by 12 foot stage and private green room with full-service AV capabilities 
Giant LED presentation screen plus fully customizable, state-of-the-art lighting and sound technology  

Full-service bar and kitchen  
An elegant rooftop club and lounge that offers panoramic views of the downtown skyline. Located on the 60th floor, the venue spans 9,330 square feet – including the outdoor patio, making it an unforgettable space for unique private and semiprivate events. With customizable seating and signature cocktails, it offers: 
Capacity for 200 seated or 400 standing guests 

Outdoor terrace contains firepits, making it a cozy experience year-round 
Inspired by the movers and shakers who created Las Vegas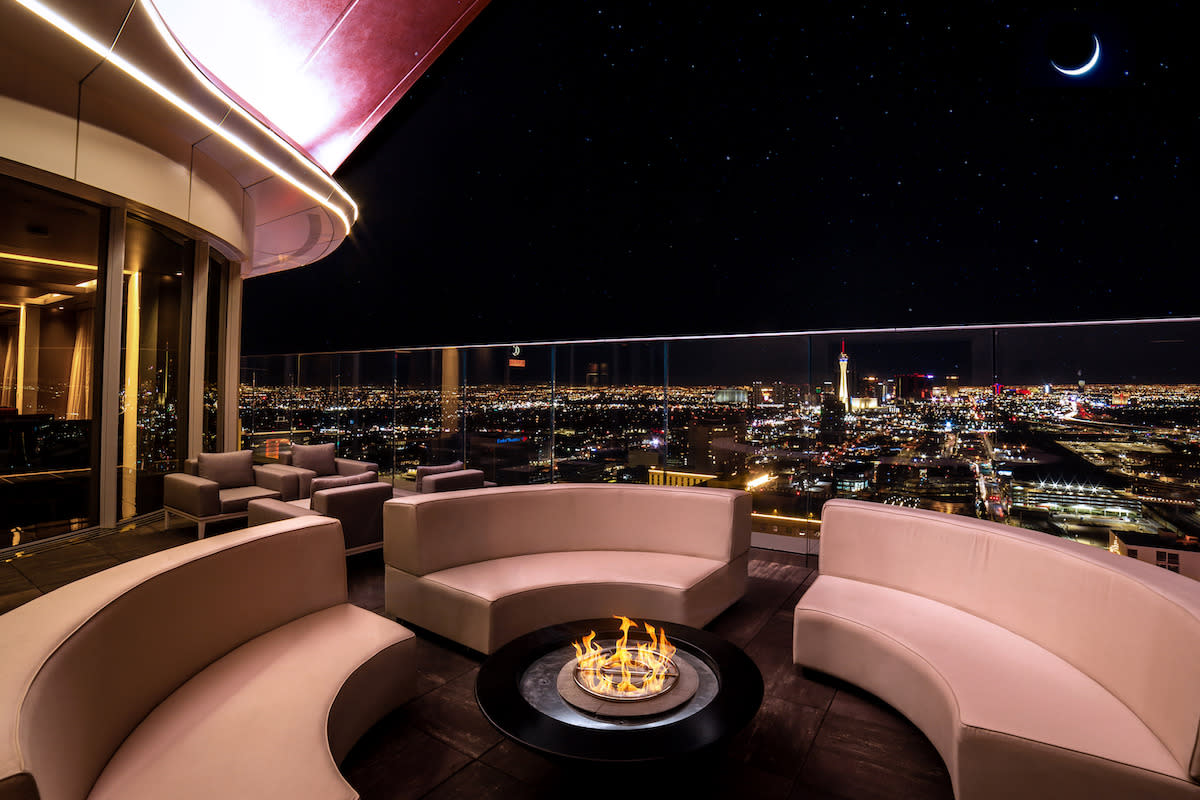 Legacy Club at Circa Resort & Casino 
For a fantastic venue in Las Vegas and located at the top of the Fantasy Tower, Moon & View offers extensive wine and champagne lists, VIP amenities, a retractable roof, and 360-degree views of the night sky. The stunning venue provides an unforgettable experience for attendees with:  
Reception capacity of 500 guests, or 200 for seated-style events 

Unique recreational space with a stylish bar scene  
Spectacular views of the Las Vegas Strip  
Each of these one-of-a-kind venues can cater to any corporate team event or theme. Hosting your event in Las Vegas is cost effective, plus, there's an assortment of things to do and see, making it the ideal location to host any business-related event. Browse these tips for planning your in-person events, and know that Vegas means business.