Adventure and Las Vegas go hand in hand. Jon Watson knows that, so he spent a week in Vegas taking on thrill rides, activities and more. Check out his roller-coaster ride of a trip, which includes taking a few breaks to enjoy some of Las Vegas' premier restaurants.
He put it best when describing the Las Vegas experience: "No matter what you are looking for, there's something here for everyone."
Las Vegas is filled with thrills, from swimming with the sharks in the Shark Reef Aquarium at Mandalay Bay, to zip lining on Slotzilla in the Fremont Street Experience or the VooDoo Zipline across towers at the Rio, to the SkyJump at the Stratosphere. 
And that's just the beginning. Get your adrenaline pumping and experience  thrills like you never have before, Las Vegas style.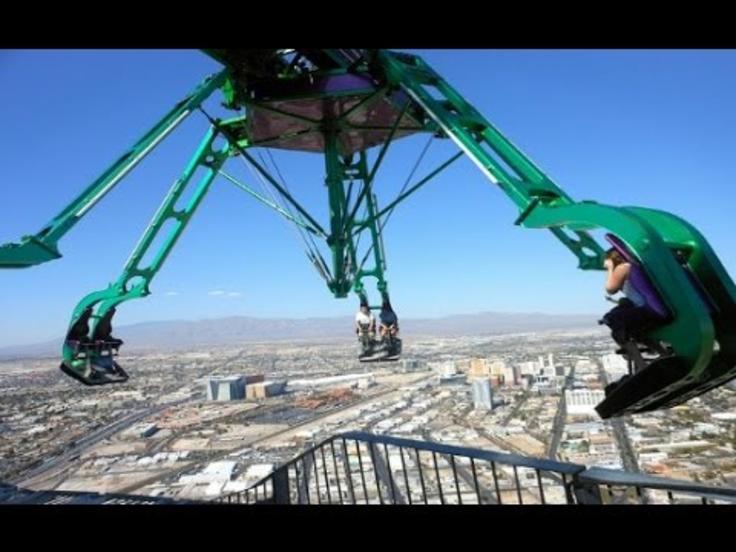 -----
Jon: Good morning guys and welcome to the third and final installment of our Vegas adventure.  So far you guys have seen us do a lot of really cool and awesome things, but today is gonna be by far the craziest and most adrenalin-filled day and night.

We're here at Zero1 Desert Racing Adventures this morning and we're gonna be taking out these bad boys.  We're doing a tour through the Mojave Desert and it should be a pretty awesome extreme way to start the morning. 

So it has been an awesome day now we're gonna take things a little slow, we're headed down to Sage which is a really nice high-end restaurant.

No trip to Vegas would be complete without visiting some of its premier restaurants and during our stay we ate at a lot of different places. Two of our favorites were Sage at Aria Resort & Casino and Nobu at Hard Rock Hotel & Casino (a restaurant we previously visited earlier in the week). We sat down with George the manager of Nobu and we learned all about high-end Japanese cuisine as we sampled a little bit of everything. 

The food there was incredible and as someone who is usually a picky eater I have to say there wasn't one thing there that I didn't like. Then a few days later when we went to Sage they did a presentation for us showing us how they make deconstructed cocktails. 

Robert: Hi! I'm Robert Schultz here at Sage at the Aria. I'll be presenting to you today the Pirate Elixir. This is a rum-based cocktail. We have Pyrat Rum, a touch of sherry, Amaro, and a dash of orange bitters.

Jon: When you eat at one of these restaurants it's not just a meal it's truly a dining experience. 

Skyjump Las Vegas Employee:  John here at SkyJump Las Vegas, 855 feet. Take a step outside and point your camera around if you want. 

Jon: Don't remind me how high this is. Oh I have no words. That was fun though. Can I do it again? Ready to do this, let's go!

Guys it's been a crazy adrenaline-filled night and now we're winding down with some drinks at the 107 Lounge. It's on the 107th floor of the Stratosphere and it has one of the best views in Vegas.

It is our last night in Vegas so we wanted to do something really memorable. We're here at Maverick and we're gonna be taking a helicopter tour over The Strip. 

So what can you say about a city like Vegas? It's truly a place that has everything. People think it's just one big party town but there's so much more to it than just that. This has been incredible and I've learned that no matter what you're looking for there's something here for everyone.