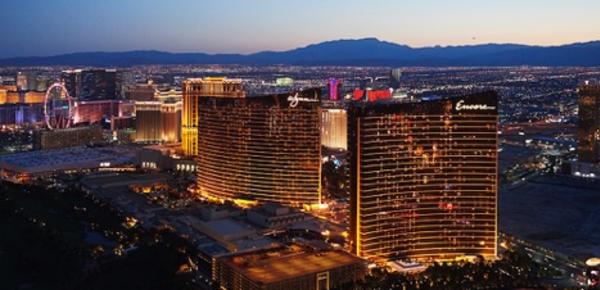 Like the millions of people who come to CES, Tina Shahabedin, event manager for the Strategy and Innovation Center at Samsung, wanted to avoid the ordinary. How do you do that at a huge convention? Go small.
"We were higher up in the Wynn tower (at Wynn Las Vegas). Which is a departure from the hustle and bustle of the convention center or being on the convention floor. It just created a great atmosphere. You kind of forget, every once in a while, that there's a whole beautiful world out there."
Instead of a typical convention space, she "used a beautiful hotel suite at Wynn Las Vegas to create a private demo experience for (her) top-tier customers."
"One of our subdivisions is called ARTIK − it's a product within Samsung, our smart IoT products."
She needed something intimate; something that would really engage on an individual level. She had people to impress. The suite gave her a space that felt like an environment her product would actually be used in. So, she "… used the living room space and this small, focused atmosphere. …"
"We (needed to move) all the bedroom furniture out of the bedroom and turn it into a meeting room."
Tina wanted to equip the room properly, yet still keep the ambiance. But she didn't have to do it all on her own.
"I worked really closely with our internal team members because I knew the space really well and I had the specs. And I had the connections with the hotel to figure out what exactly we could do there."
What she wanted to do with the space was no surprise to the Wynn. "The Wynn is so accustomed to doing things like this during CES. They actually have a small menu of the items in each room, and what the price is to move them. They're so used to taking things out and rearranging the space."
Tina and her partners got to work.
"I basically took the floor plan and marked off which pieces I would need removed. The (Wynn team) came in the day before we got the suite and removed all the pieces, room by room, that I had marked on the floor plan."
Once everything was out, it was time to rebuild.
"I worked with a production company that has a warehouse in Las Vegas to get special furniture, extra TV screens to show the technology, and other things we would need to build out the demo."
  "And when my team arrived with furniture two hours late on load-in day (because it was raining at the beginning of the week), the hotel was super accommodating. It still let my team in and they still got the job done."
Because Tina was in the city that's ready for just about anything, her event was more than she hoped for.
"(It) is such a great city for meeting planners − there are tons of production companies, tons of great partners to work with to make an event successful. You can almost make anything happen. Even during a busy time like CES."
And it's tough to find that kind of thing anywhere else.
"When you go to other cities that aren't used to that kind of management or that level of planning, you're trying to talk to them about all the things you need customized. They aren't really used to it. It just makes it a little more challenging."
That "no-limits" attitude is what makes Las Vegas special for conventions, particularly when it comes to technology.
"In another city, there would be fewer options and opportunities to do cool, unique things for my clients and their clients."
And those cool, unique things make everybody happy. Even the meeting planner.
"I enjoy planning events for my colleagues (during CES). … (It's) a really exciting time to be in Las Vegas. … It's a great way to really start the year."