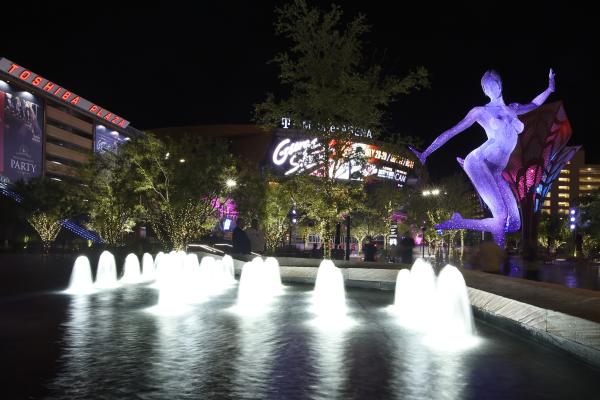 Whether you are pitching to a small circle of people or presenting to a large room of possible partners, landing a space that sparks the conversation is just as important as what you are going to say. Here are some priceless spots to talk out your next million-dollar deal in Las Vegas.
ARIA
Whether you need a space for seven or 7,000, ARIA has you covered. With dozens of rooms for the choosing, you can decide on a room over 3,000 square feet with built-in projector systems like the Bluethorn room, or something more intimate such as the Starvine room.
Recently, ARIA has added 200,000 square feet to its meeting spaces. The first level consists of 23,000 square feet of ballroom space split into eight sections, while the second level has 12 breakout rooms, a 5,800-square-foot outdoor terrace, and glass walls that open to another almost 10,000-square-foot space. Basically, there is room for you and your business everywhere. Another plus? ARIA's convention spaces are all up to LEED Gold Standards, meaning your business meeting is not only good for you, but the environment too.
ARIA also functions as your conversation starter − the stunning architecture and three-story lobby impresses just about anyone. It also holds some of the world's most famous chefs and restaurants, including Michelin three-star chef Masayoshi Takayama's restaurant, barMASA (celebration dinner after you see your million-dollar deal through, perhaps?).
Downtown Grand
For more of a historic side of Las Vegas, Downtown Grand is the perfect spot to get business done.
Aside from being in the heart of the classic side of Vegas, you can also take advantage of an intimate chef's table dinner for a party of six, or a massive outdoor meeting at the Citrus Grand Pool Deck.
The Las Vegas Room inside the Downtown Grand is sure to stir up those Old Vegas glam vibes with a complete vintage bar and space for a formal dinner. The room can host 100 people at 1,700 square feet.
The Fremont Room is 2,500 square feet and ideal for those needing supreme audio-visual capabilities. The room is complete with a large flat-screen TV and in true Old Vegas fashion, Tiffany-blue banquet chairs and chandeliers.
Hyde at T-Mobile Arena
There's something to be said about hosting a meeting in the same venue that Guns N' Roses, The Killers and Jay-Z have performed at.
Located above one of the most lavish concert and sports venues, Hyde has two exclusive spaces for holding meetings and events. The Stella Artois Lounge and the Grey Goose Lounge together create 18,000 square feet of Strip views and extraordinary viewing experiences, and can hold almost 800 people.
The venue is complete, with its own bar, DJs and cuisine. You can talk business while you watch a concert. Or be in the middle of the action with a meeting package and best views of a Vegas Golden Knights game.  Business and pleasure are what Vegas is for, right?