VegasMeansBusiness - An Interview with Kerry Gumas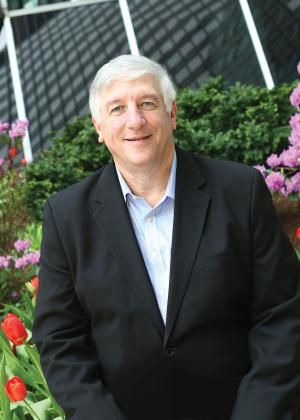 Everyone knows Las Vegas is an over-the-top place for fun, sun, food, shows, clubs, shopping, spas and people watching. In January, Hopper (hopperblog.com) announced that Las Vegas was the most popular destination for air travelers after it analyzed 271 million online flight searches made during 2013. But Las Vegas is also a great place to meet, greet and do business.
That's why Questex, a global trade show organizer, holds five events a year in Las Vegas, bringing over 95,000 people to the city. The Newton, Massachusetts-based company has been running multi-platform events in Las Vegas for 20 years.
"Las Vegas offers an overwhelming package of benefits to our guests, from both a business and a hospitality perspective," says Kerry Gumas, CEO of Questex.
The Las Vegas Value Proposition
Gumas says that the Questex leadership team reviews its options every year to determine where to host its shows. Questex returns to Las Vegas because the Las Vegas Convention and Visitors Authority (LVCVA) "has made Las Vegas an easy, business-friendly place to do business," explains Gumas.
The LVCVA staff and the meeting planners at the Las Vegas properties are seasoned professionals, intimately familiar "with the business-specific issues related to the management of large-scale events. And they do this at competitive rates compared to other big-city convention centers," Gumas continues.
For example, Las Vegas knows how to coordinate various local government entities so Questex can produce an event that looks effortless to its exhibitors and attendees. Gumas notes that LVCVA has helped him work with the mayor, the police and fire departments, the department of health and area institutions such as University of Nevada, Las Vegas. "We produced smaller, similar events in other cities where it was really difficult to get the government coordination we needed," says Gumas. "LVCVA expedites the process."
Another benefit: Gumas has a single point of contact at LVCVA. And the staffers are expert planners. "They take care of the details ahead of time," he says.
The LVCVA offers marketing services to both meeting planners and their clients. These activities range from call centers to VIP services. "It's a unique blend of marketing support," he says.
Gumas also appreciates the high-tech capabilities of Vegas' convention facilities. In addition to ubiquitous Wi-Fi (even at the airport), he says the audiovisual capabilities are Broadway-worthy.
The Best Entertainment Options—Anywhere
Gumas sees the Las Vegas Strip as an advantage, forcing his team to work at the top of their game. "We have to create high-quality content and exhibits to drive attendee participation to capture our audience because there are so many other things that demand their time."
Questex incorporates the Strip into the event, taking advantage of its diverse entertainment options. "Business travelers attend a convention for educational and networking opportunities. People love it when the meeting organizer mixes in an entertaining experience too. Las Vegas gives us the opportunity to do that," he explains. "If you don't, you are missing an opportunity to engage your audience."
Gumas says his job doesn't stop at five o'clock. "We leverage Las Vegas, hosting events from six p.m. on—from a party at a world-class nightclub to an intimate dinner for 15."
He also lauds the hotels' well-trained concierges. "They make it easy for us to deliver the type of experience our attendees expect," says Gumas.
The bottom line? "Las Vegas is a fantastic draw for meetings," says Gumas.
Whether your group is large or small, requires function space or only sleeping rooms, we're here to help make your event a success!