When building a vibrant workplace culture and collaborative teams within your organization, nothing beats in-person gatherings. Businesses prosper with cohesive, well-trained and connected team members, and where better to forge those bonds than in Las Vegas. As a world-renowned destination, Las Vegas has robust offerings when it comes to event or convention space, accommodations, cuisine from around the world, shows, residencies, and sporting events.
The destination is home to many of the world's best, most highly regarded event and meeting spaces. For an ideal location downtown, consider Circa Resort & Casino, with meeting space ranging from 525 to 3,844 square feet that can be used in various combinations. Incredible venues include the Las Vegas Convention Center, Mandalay Bay Resort & Casino, The Venetian Expo, Resorts World Las Vegas, and AREA15.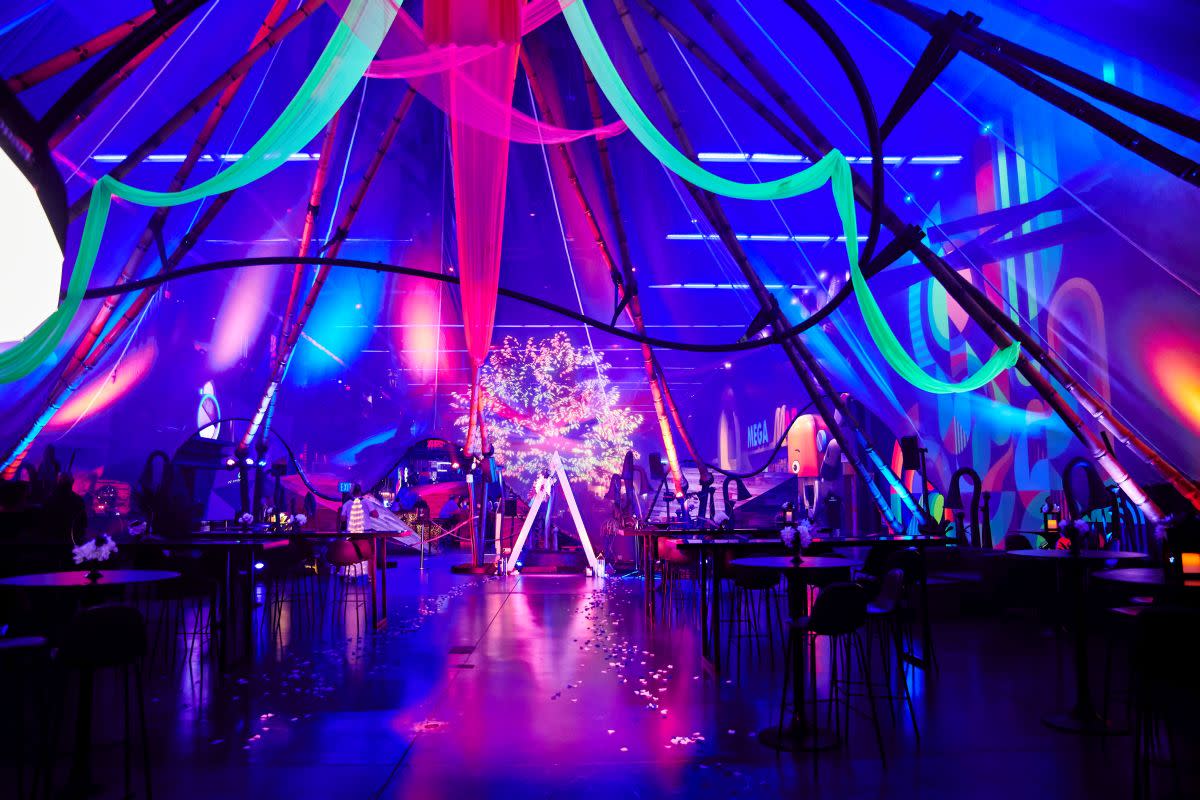 AREA15
Las Vegas is incredibly accessible with the Strip located a mere 3.5 miles from Harry Reid International Airport, which also offers more than 1,050 daily inbound and outbound flights. From small and mid-sized groups to major trade shows and corporate gatherings for tens of thousands, Las Vegas is your key to an unforgettable event. Continue reading for tips on planning your next in-person gathering.
1. KNOW YOUR BUDGET
Preparation is the key to success. As part of the planning process, you'll need to determine your budget. When budgeting for your event, keep a few things in mind:
Accommodation and transportation

Event venue

Food and beverage

Team-building activities
Remember to check dates for the event early as prices will edge higher as the date approaches. If you're working with a tighter budget, avoid planning your gathering during the peak season by opting for late spring or summer. As you go through the RFP process, keep in mind that the hotel staff and event planners are there to work with you and help you through the process.
2. CHOOSE YOUR THEME & VENUE
Planning an in-person corporate event is about offering your employees motivation to connect. Before booking a space and a theme, think of your staff or attendee dynamic. One of the greatest things you'll discover about planning an event in Las Vegas is its ability to accommodate different needs or desires. If you have specific expectations for an event venue, you should have no trouble finding one to meet your every need.
If possible, consider visiting a few venues in advance. Doing so can help you visualize your upcoming event in the space and can aid you in finding any additional tasks or logistics that'll need to be worked out.
This is where your event's theme or design comes into play. Perhaps you want to throw a 1920s, Prohibition-inspired event, a perfect fit for The Underground Speakeasy & Distillery at The Mob Museum. Or maybe consider a more industrial, modern feel for your event, which you'll find at the INDUSTRIAL event space. Otherwise, host at The Beverly Theater in Downtown Las Vegas for a unique, film house vibe in one of its three distinct spaces – the main theater, a courtyard and segue to a modish jazz terrace. Maybe you want a classic, elegant aesthetic like that found at The Stella Studio at The Venetian Resort Las Vegas.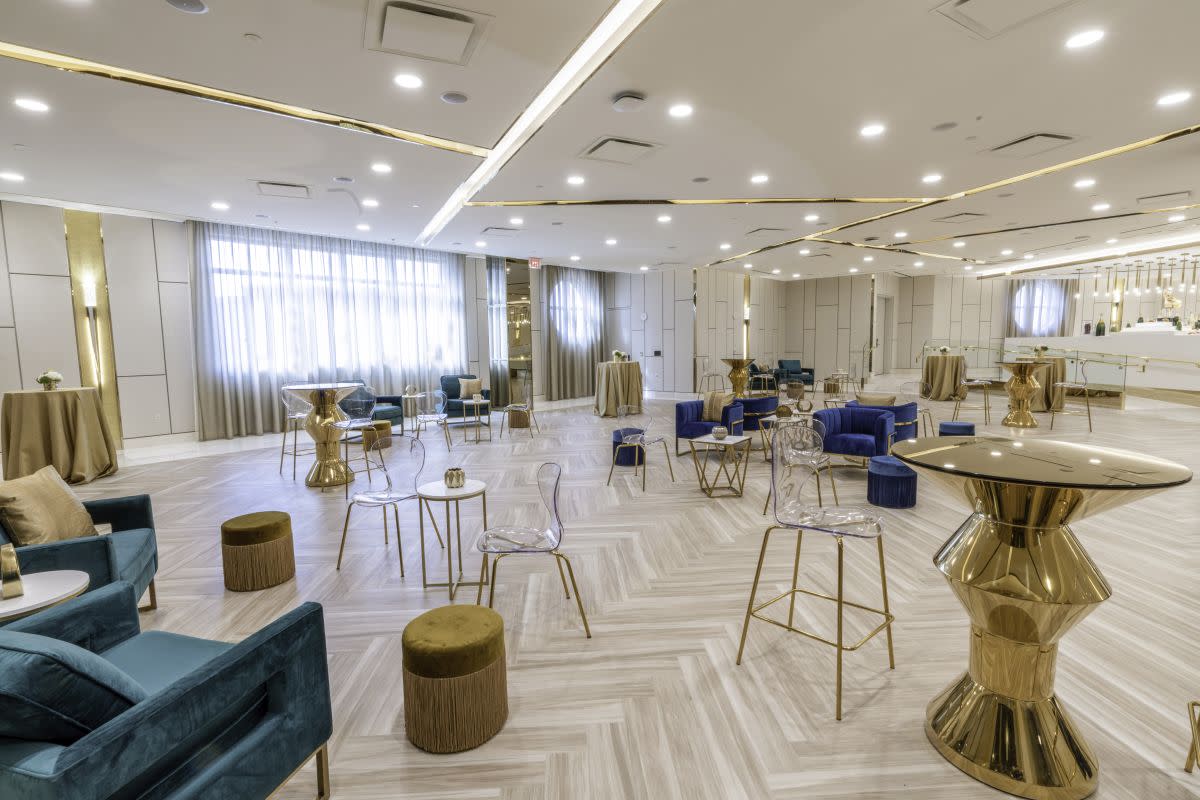 The Stella Studio at The Venetian Resort Las Vegas
On-site teams at any of the venues are willing to work with you. Make sure to discuss every detail of what your ideal event looks like to ensure that it goes smoothly. Plus, on-site teams can provide insider recommendations based on their experience.
3. CREATE THE RIGHT ATMOSPHERE
Now that you've picked a venue and theme, to make your event the perfect mix of business and entertainment, you'll want to impress, motivate and inspire your employees. Have some fun designing and organizing the event space. Consider selfie booths; in-venue drones (where applicable); heart-pumping beats to elevate the energy from a popular Vegas DJ; captivating guest speakers; LED lights; or stunning backdrops that scream "This Vegas event is on point!" Your venue's team can help with suggestions that can create an unforgettable, one-of-a-kind experience.
If you plan to feature keynote speakers, arrange the seating to face the stage in long rows. This gives everyone a clear view of the presenter and any visuals or props. When you gear your corporate meeting toward team building and networking, opt for close-knit meetings, breakouts or roundtables. This helps staffers connect within large or small groups and engage more naturally in open dialogue.
As you prepare for the event, connect with your marketing team to deploy email campaigns to motivate and excite your attendees. Work with your video and production team to create a teaser video and, during the event, have them capture footage to use as you promote your next event. Incredible b-roll is also a valuable asset for creating effective post-event recaps and demonstrating the importance of successful in-person meetings. Connect with your social team to capture the event and promote your company's culture to drive new hires in the future.
4. EMBRACE LAS VEGAS
In that case, check out the observation deck and thrilling attractions at The STRAT Hotel, Casino & Tower or rent a cabin on High Roller at The LINQ Promenade. Catch a glimpse of this and other team-building activities in action below.
Perhaps staying low to the ground is more your group's style. Enthusiastic employees might enjoy world-class entertainment like Cirque du Soleil's "O" at Bellagio and Mystère at Treasure Island – TI Hotel & Casino. Or hit the links at Bali Hai Golf Club, the only course on the Las Vegas Strip. If those weren't enough, rent out Wynn Field Club at Allegiant Stadium for a one-of-a-kind game day, nightlife or concert experience.
Then, when it's time to dine, the destination offers some of the world's best cuisine. Dine at any of Las Vegas' globally renown restaurants that also have private dining rooms, such as Bazaar Meat by José Andrés at SAHARA Las Vegas, Gordon Ramsay Hell's Kitchen at Caesars Palace, Vic & Anthony's Steakhouse at the Golden Nugget, and Ocean Prime Las Vegas.
There are countless reasons why Las Vegas is the place to host your business event. With nearly unlimited event options and unrivaled attractions, entertainment, dining and more, your Las Vegas in-person gathering will be one to remember. After all, Vegas means business.