Las Vegas Convention Center Expansion
The Las Vegas Convention Center (LVCC) Expansion is a vital expansion of the Las Vegas Convention Center by the Las Vegas Convention and Visitors Authority (LVCVA). The LVCVA will reinvent the convention center as a state-of-the art facility featuring the latest technology.
West Hall Expansion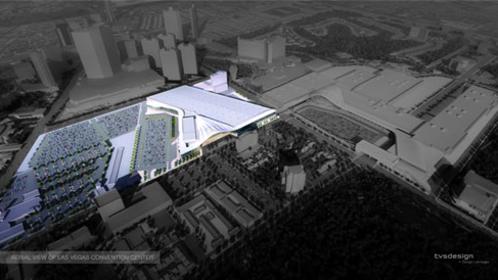 Expansion Highlights
The project is more than 84% complete.
Exterior Gill construction continues.
Exhibit Hall concrete pours continue and are about 60% complete.
Metal exterior panel installation continues.
Kitchen equipment installation continues.
Atrium level 3 fire suppression system installation has started.
Carpet has started to arrive and is being temporarily stored in the North Hall.
TMH Continues to follow CCHD and CDC guidelines for worker safety regarding COVID-19.
Expansion Overview
The $980 million West Hall Expansion will add 1.4 million square feet including 600,000 square feet of new, leasable exhibit space, a 14,000 square-foot outdoor terrace able to hold receptions with up to 2,000 attendees, and a grand atrium. The expansion is slated for completion in December 2020, just in time to welcome CES in January 2021.
When the expansion opens, the LVCC will feature the largest column-free space in North America (within the 600,000 square-foot West Hall, there is 328,000 square feet of column-free space). The new 600,000 square-foot exhibit hall will feature power and data from floor boxes, overhead and around the perimeter of the hall as well as 4,000+ hang points for rigging light. It will also include 150,000 square feet of meeting room space, equating to 80 additional meeting rooms.
Expansion Look Ahead
Carpet installation in meeting rooms should start soon.
Scaffolding removal in the atrium is about 50% and will be completed in the near future.
Permanent Power to the building should completed soon.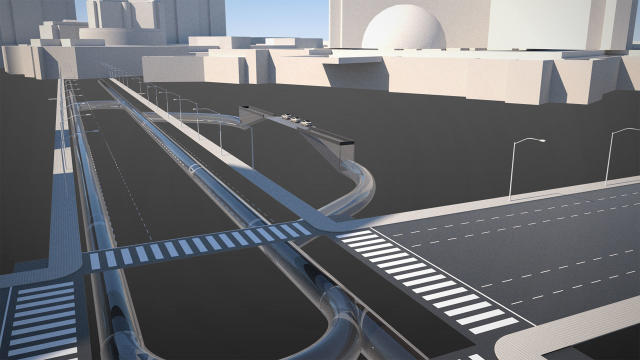 The Convention Center Loop
The $52.5 million underground transportation system will include three passenger stations connecting the existing 3.2 million square-feet of convention space with the convention center's new expansion of the West Hall, adding an additional 600,000 square feet of flexible meeting space. The system will allow convention attendees to be whisked across the sprawling campus in just over one minute, free of charge, in all-electric Tesla vehicles.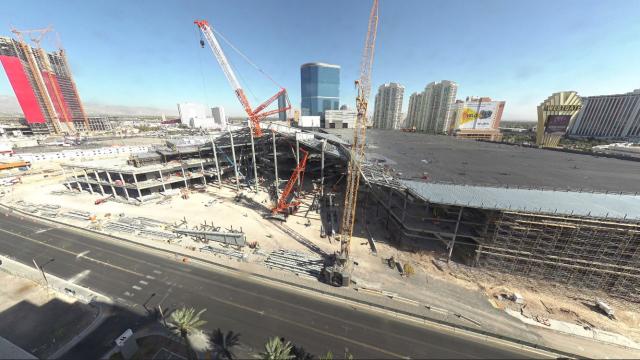 LVCC Expansion Live Stream
Follow along with construction of the LVCC Expansion project with a live camera. Follow the link for a bird's-eye view of the progress.
Watch Stream
FAQs
The state-of-the-art Las Vegas Convention Center expansion project offers a distinct area designed to do business and ensure our economic future by continuing to provide the unparalleled experience our guests and clients have come to expect. Las Vegas thrives on evolution, and the LVCC project will give us additional convention center space fit for one of the world's most iconic and vibrant cities.
The expansion project will add 1.4 million square feet to the current convention center facility, including at least 600,000 square feet of new, leasable exhibit space. The expansion will also feature a main entrance and grand lobby off Convention Center Drive, meeting rooms, pre-function space and service and support areas.
The expansion is slated for completion in time to welcome CES in 2021.
Las Vegas is a city built for moments that change lives. And now, we're expanding to a 2.5-million-square-foot convention center – the second largest in the U.S. – to better serve the moments that change business. We're changing the experience and capabilities we're able to offer, including an additional 600,000 total square feet of leasable exhibit space and 150,000 square feet of additional meeting space, state of the art technology, and enhanced security features for efficiency and safety. These additions and improvements will help secure Las Vegas' standing as a top destination for meetings, events and tradeshows.
When complete, the West Hall will have:
60K miles of wire
56 miles of rebar
17K tons of steel in facility. Equivalent to:

113 ea. Adult Blue Whales
5,666 full grown African Elephants.
2 ea. VSN Arliegh Burke Class Destroyers
103 ea. B52 Bombers
566ea F15 fighter planes