Las Vegas Convention Center Expansion
The Las Vegas Convention Center (LVCC) Expansion is a vital expansion and renovation of the Las Vegas Convention Center by the Las Vegas Convention and Visitors Authority (LVCVA). The LVCVA will reinvent the convention center as a state-of-the art facility featuring the latest technology.
Phase Two Expansion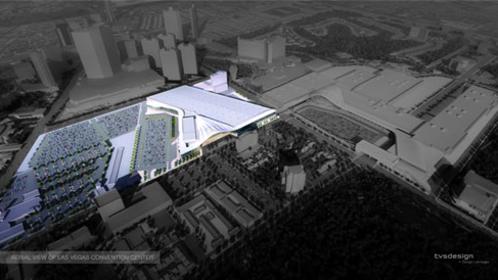 Phase Two Expansion Overview
The $980 million, Phase Two expansion will add 1.4 million square feet including 600,000 square feet of new, leasable exhibit space, a 14,000 square-foot outdoor terrace able to hold receptions with up to 2,000 attendees, and a grand atrium. The expansion is slated for completion in December 2020, just in time to welcome CES in January 2021.
When Phase Two opens, the LVCC will feature the largest column-free space in North America (within the 600,000 square-foot West Hall, there is 328,000 square feet of column-free space). The new 600,000 square-foot exhibit hall will feature power and data from floor boxes, overhead and around the perimeter of the hall as well as 4,000+ hang points for rigging light. It will also include 150,000 square feet of meeting room space equating to 80 additional meeting room.
Phase Two Accomplishments
The project is more than 75% complete
Floor slabs are being poured
Dry wall is being installed
Meeting room building roof top air handlers placed
Phase Two Look Ahead
Anticipating start of:

Meeting room interior finishes
Meeting room restrooms
Installations of meeting room programmable screens

Completion of passenger and freight elevators
Pedestrian bridge retrofit for West Hall to North Hall access

Phase Three Renovation
Schematic Design Progress
Phase Three Renovation Overview
Phase Three includes renovating the existing 3.2 million sq. ft. facility and incorporating the same dynamic design as the facility expansion. The complete renovation has a projected completion date of 2023 and ensures that no business will be displaced during the construction and renovation.
Phase Three Accomplishments
    Adjusted timeline sequencing - Read More >
    Completed 100% design schematic
Phase Three Look Ahead
Review LVCC as-built drawings to understand construction
Budget and work scope meetings to reconcile differences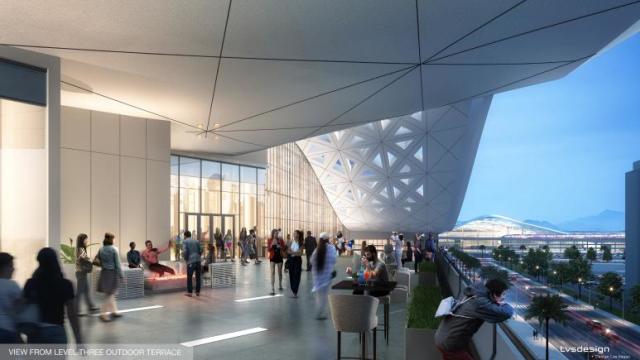 Economic and Community Impact
The LVCC expansion is expected to support nearly 14,000 construction jobs and 7,800 permanent jobs upon completion. $2.1 billion will be generated in economic activity during construction and have an annual incremental economic impact of $810 million while attracting over 600,000 new visitors each year.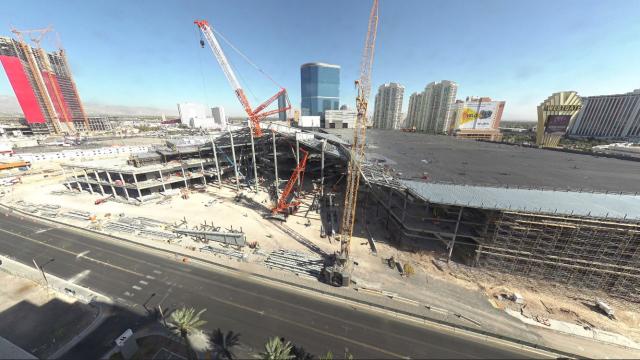 LVCC Expansion Live Stream
Follow along with construction of the LVCC Expansion project with a live camera. Follow the link for a bird's-eye view of the progress at the LVCC Phase Two expansion site.
Watch Stream
FAQs
The Las Vegas Convention Center expansion is more than an expansion of the existing Convention Center, it is also a reimagination of the space, a renovation of the existing facility and a comprehensive upgrade of the facility's amenities. This state-of-the-art project offers a distinct area designed to do business and ensure our economic future by continuing to provide the unparalleled experience our guests and clients have come to expect. Las Vegas thrives on evolution and reinvention, and the LVCC project will give us a convention center fit for one of the world's most iconic and vibrant cities.

The LVCC's Phase Two is an $935 million expansion project that will add 1.4 million square feet to the current convention center facility, including at least 600,000 square feet of new, leasable exhibit space. The expansion will also feature a main entrance and grand lobby off Convention Center Drive, meeting rooms, pre-function space and service and support areas.
Phase Three will be the complete renovation of the existing 3.2 million-square-foot facility, with a projected completion date of 2023.
The expansion is slated for completion in time to welcome CES in 2021.
The Phase Three renovation will begin as the Phase Two expansion is coming to a close. The renovation will be done in phases, one hall at a time, so that the Las Vegas Convention Center always has 1.9 million square feet of leasable exhibition space (the amount that is currently available). The phased approach will ensure that no business will be displaced during the renovation.
Phase Three has a projected completion date of 2023.
Las Vegas is a city built for moments that change lives. And now, we're expanding to a 2.5 million square feet convention center – the second largest in the U.S. – to better serve the moments that change business. We're changing the experience and capabilities we're able to offer, including an additional 600,000 total square feet, state of the art technology, and enhanced security features for efficiency and safety. These additions and improvements will keep Las Vegas as a top destination for meetings, events and tradeshows.
When complete, the LVCCD exhibit hall will have:
60K miles of wire
56 miles of rebar
17K tons of steel in facility. Equivalent to:

113 ea. Adult Blue Whales
147,826 ea. adult chimpanzees
12,454 Adult Great White Sharks
5,666 full grown African Elephants.
2 ea. VSN Arliegh Burke Class Destroyers
103 ea. B52 Bombers
566ea F15 fighter planes