Business happens in person. And it's happening in Vegas. We're moving forward confidently, with safety a priority. Make sure you don't get left behind.
#FastForwardVegas
"We have more than 22,000 attendees registered and, more importantly, the energy on the show floor has been fantastic. Our exhibitors tell us that attendees are here with projects in hand and ready to do business."
-Jim Pittas, President and CEO, PMMI
"Our attendance numbers in Las Vegas are always much bigger than anywhere else."
- Roger Dow, President/CEO of U.S. Travel Association
Las Vegas is where more business travelers want to go. Where more business gets done.
See how we're welcoming business and shows back to the destination.
Over the past several months, we've successfully hosted dozens of trade shows and events, while keeping safety a top priority.
June 2021 - September 2021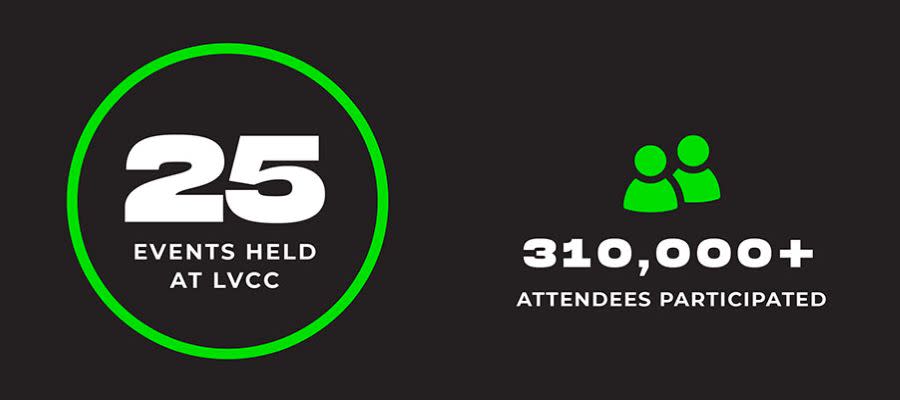 World of Concrete • Barrett-Jackson • Auction • International Esthetics Cosmetics & Spa Conference & International Beauty Show • American National IBJJF Jiu-Jitsu Championship • Girls' Junior National Championship • Nightclub & Bar Show • Waste Expo • Amusement Expo • AAU West Coast National Championships • Association of Woodworking & Furnishing Suppliers Fair • CHAMPS Trade Show Summer Gage Enterprises • WQA Convention & Exposition • Off-Price Specialist Show • MAGIC Marketplace • International Pizza Expo • ASD Market Week • White Label World Expo • Midwest Arms Gun & Knife Show • SHRM Annual Conference & Exposition • MINEXPO • IPW • PACK EXPO Las Vegas and Healthcare Packaging EXPO • International Wireless Communications Expo • Las Vegas Souvenir & Resort Gift Show
We're excited to continue moving business forward and being the premier destination to host any meeting, trade show or event.
October 2021 - January 2022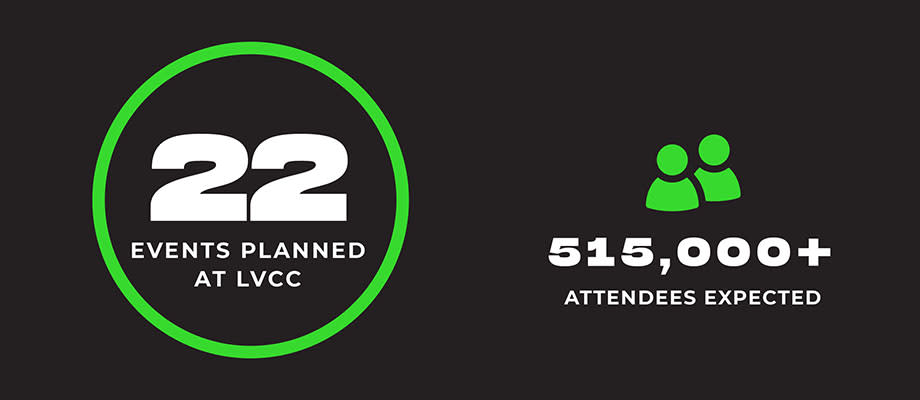 Mecum Collector Car Auctions • NBAA Business Aviation Convention and Exhibition • The ARA Show • MJBizCon • National Hardware Show • The SEMA Show • Wedding MBA Convention • The Cooperator Expo •  Jiu-Jitsu CON IBJJF • The Carwash Show • ISSA Show North America • DEMA Show • CFB Events, Inc. • LDI Show • Lowrider Las Vegas Super Show • Cowboy Christmas • 37th Annual Elk Camp & Hunter Christmas Exposition  • 40th Annual Cliff Keen Las Vegas Collegiate Wrestling Invitational • SnowJam Ski & Snowboard Show • RECon • Working Ranch Expo • CES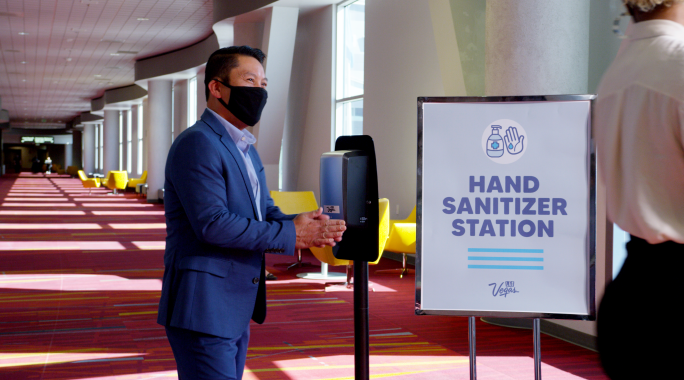 Meetings Designed for Your Maximum Health and Wellness
Traveling to Las Vegas and attending Professional Business Meetings and Events (PMEs) is often safer than everyday activities you already do.
Check out some of our recent shows.