Business happens in person. And it's happening in Vegas. We're moving forward confidently, with safety a priority. Make sure you don't get left behind.
#FastForwardVegas
"We have more than 22,000 attendees registered and, more importantly, the energy on the show floor has been fantastic. Our exhibitors tell us that attendees are here with projects in hand and ready to do business." - Jim Pittas, President and CEO, PMMI
"Our attendance numbers in Las Vegas are always much bigger than anywhere else." - Roger Dow, President/CEO of U.S. Travel Association
"MJBizCon made a triumphant return to Las Vegas for our 10th-anniversary show after having canceled the in-person portion of our event in 2020 due to the pandemic. The LVCVA supported our goals to go forward and to do so with a 'health and safety first' approach. As a result, all of our attendees and exhibitors experienced a safe and productive forum to do business. We are ready to gear up for 2022!" - Jess Tyler, SVP Events & Sales, MJBiz
Over the past several months, we've successfully hosted dozens of trade shows and events, while keeping safety a top priority.
October 2021 – January 2022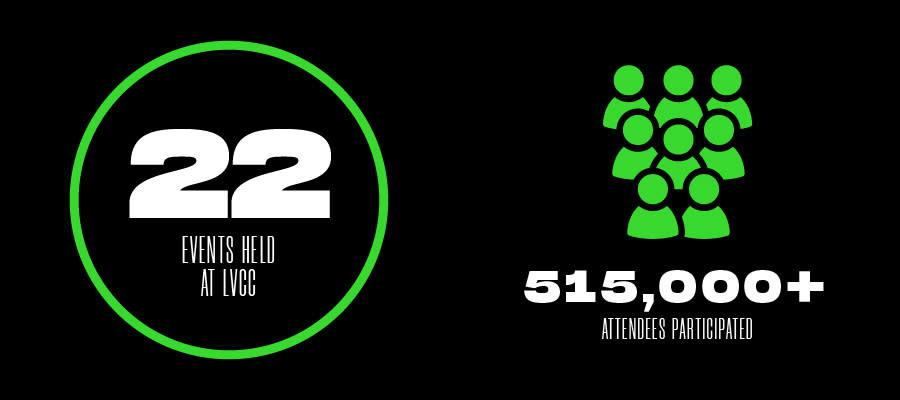 Mecum Collector Car Auctions • NBAA Business Aviation Convention and Exhibition • The ARA Show • MJBizCon • National Hardware Show • The SEMA Show • Wedding MBA Convention • The Cooperator Expo •  Jiu-Jitsu CON IBJJF • The Carwash Show • ISSA Show North America • DEMA Show • CFB Events, Inc. • LDI Show • Lowrider Las Vegas Super Show • Cowboy Christmas • 37th Annual Elk Camp & Hunter Christmas Exposition  • 40th Annual Cliff Keen Las Vegas Collegiate Wrestling Invitational • SnowJam Ski & Snowboard Show • RECon • Working Ranch Expo • CES
We're excited to continue moving business forward and being the premier destination to host any meeting, trade show or event.
February – June 2022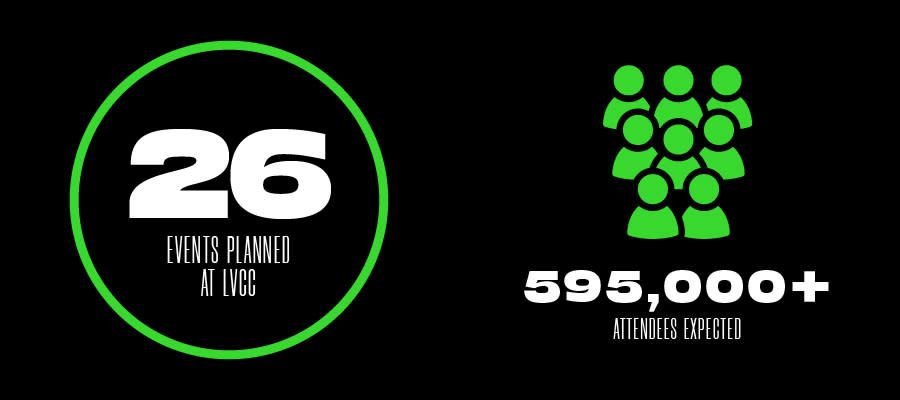 CHAMPS Trade Show • Fancy Food Show • MAGIC Spring 2022 • Travel Goods Association • ASD Market Week Winter • Reptilian Nation Expo • Ace Hardware • National Automobile Dealers Association • Call & Contact Center Expo • Bar and Restaurant Expo • International Pizza Expo • International Wireless Communications Expo • Digital Signage Expo • National Hardware Show • Coverings • National Association of Broadcasters • Waste Expo • G4Live & Budtender Awards • RECon • White Label World Expo • Embedded Tech Expo • Audiovisual and Integrated Experience Association • Las Vegas Antique Jewelry & Watch Show • CannaOne BizCon+ Expo & Industry Awards + Food & Beverage Cannavation Expo • LIGHTFAIR International • Int'l Esthetics Cosmetics & Spa Conf & Int'l Beauty Show Las Vegas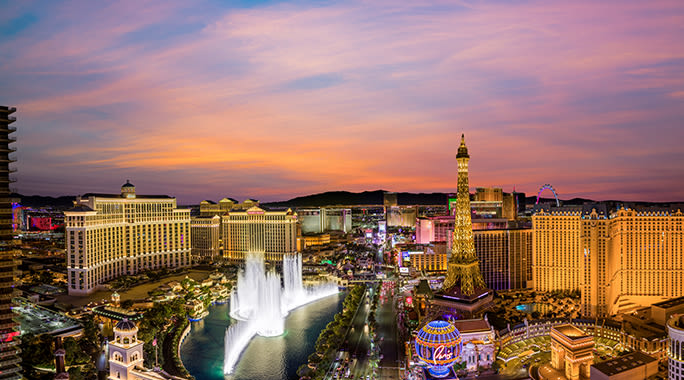 Meetings Designed for Your Maximum Health and Wellness
Traveling to Las Vegas and attending Professional Business Meetings and Events (PMEs) is often safer than everyday activities you already do.
Check out some of our recent shows.