You've been tasked with planning a great (and productive!) meeting for over 1,000 people. Feeling anxious yet? No need—Vegas has the perfect event spaces to accommodate extra-large groups. Here's how to get all of those people talking about your business with the backdrop of an incredible venue, of course.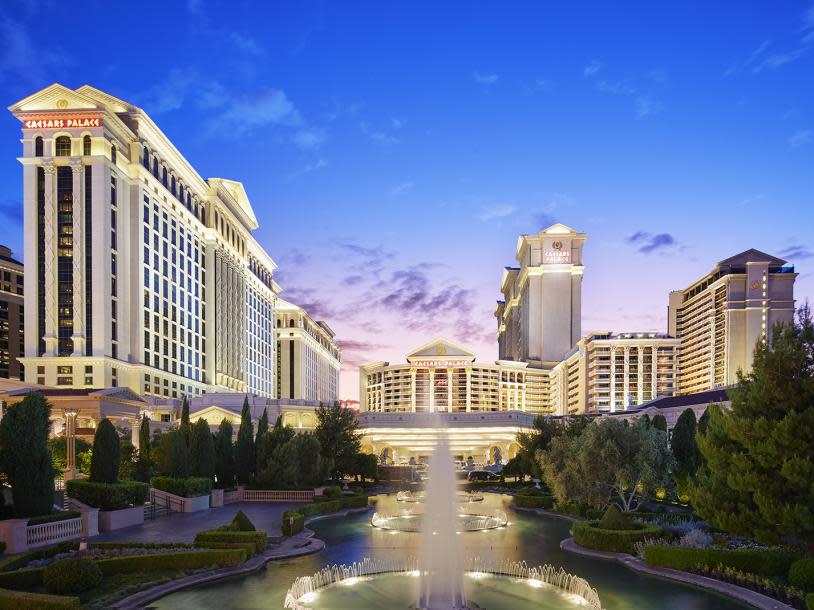 Total Sq. Ft.: 300,000

Sleeping Rooms: 3,794

Largest Mtg. Rm. Sq. Ft.: 75,000

Banquet Capacity: 4,160

Theater Capacity: 5,555

Largest Showroom Capacity:  4,200

Total Number of Showrooms: 2
The central location of this iconic resort is already a win—you'll be in the middle of all the action, so getting to other places along the Strip won't be a problem.
Inside Caesars Palace, you'll find more than 300,000 square feet of premium meeting and convention space, celebrity-chef restaurants (such as Gordon Ramsay's Hell's Kitchen), the award-winning  Qua Baths & Spa, a star-studded roster of entertainment at The Colosseum, the Garden of the Gods Pool Oasis with seven different swimming pools, and much more that will seriously impress.
The Roman Plaza was also added recently; it's a five-acre, open-air space that features the Italian trattoria Viale, which overlooks the Strip and an outdoor event amphitheater.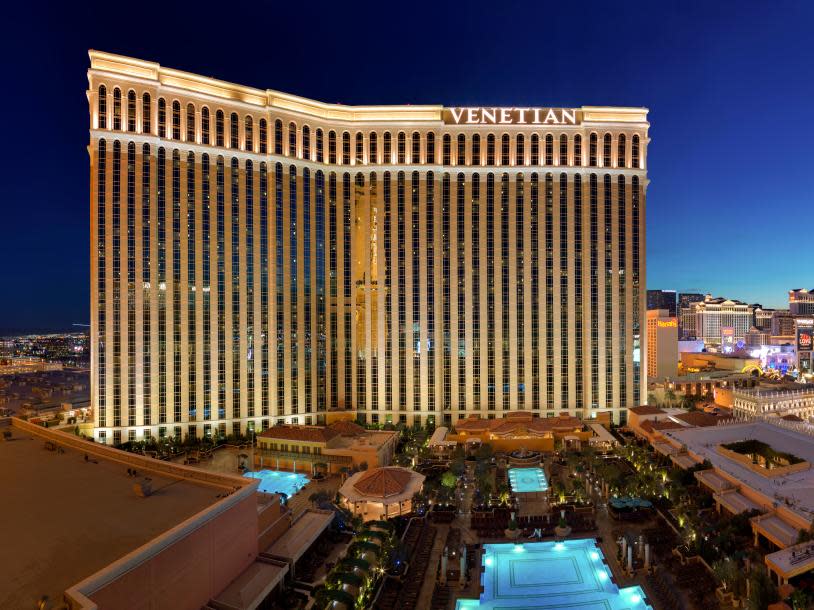 Total Sq. Ft.: 510,008

Sleeping Rooms: 4,029

Largest Mtg. Rm. Sq. Ft.: 100,600

Banquet Capacity: 5,667

Theater Capacity: 8,500

Largest Showroom Capacity: 1,815

Total Number of Showrooms: 3
The Venetian Expo are perfect for trade shows and meetings, large and small. Their 510,000 square feet of meeting space can suit any and all of your business needs.
Your attendees will be transported to a world of Italian luxury as soon as they step foot in the room. Every hotel room at The Venetian is actually a suite, meaning you'll get twice as much space as a normal guest room. The Grand Canal Shoppes is also the premier destination for luxury shopping with over 160 signature stores. You'll even see authentic Italian gondolas travel along the canal as you stroll.
While you're here, you can take advantage of the amazing culinary options such as: Delmonico Steakhouse, CHICA, Yardbird, Sugarcane or Thomas Keller's Bouchon—the options are endless.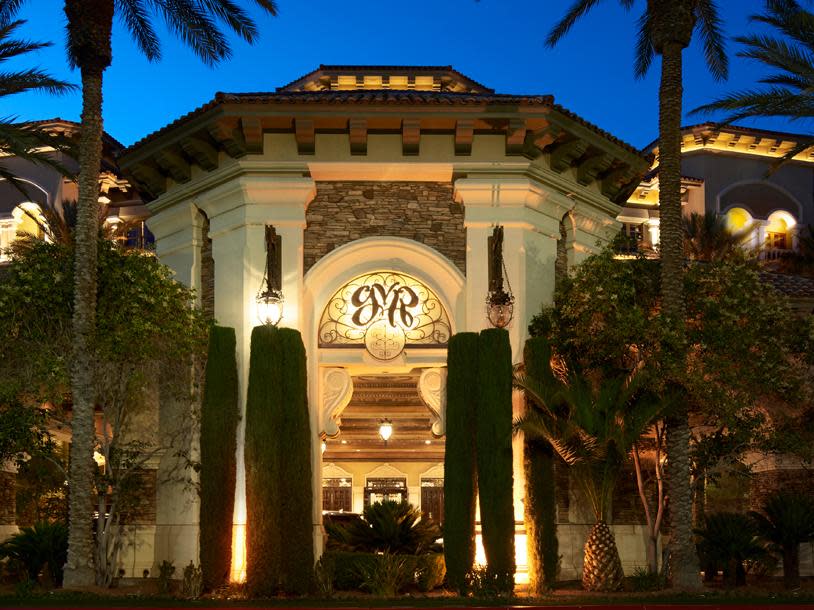 Total Sq. Ft.: 65,000

Sleeping Rooms: 495

Largest Mtg. Rm. Sq. Ft.: 17,146

Banquet Capacity:  900

Theater Capacity: 2,087

Largest Showroom Capacity: 2,000

Total Number of Showrooms: 1
Just minutes from the Strip, Green Valley Ranch is a AAA Four Diamond resort with everything you need to plan a meeting worth talking about. If you're looking for the Vegas experience without all the hustle and bustle, this is your place.
Steps from the 80,000 square feet of meeting space, Green Valley Ranch offers many dining, entertainment and relaxation options. The Backyard is an eight-acre area behind the resort that's home to the pool, nightclub, sandy beach, amphitheater for live music, 30,000-square-foot spa, and one of the best views of the Las Vegas Strip around.
Downstairs is an arcade and 10-screen movie theater, and just across the street is another world of food, fun and shopping at The District at Green Valley Ranch, an urban-style shopping village with over 35 retail stores and 15 restaurants.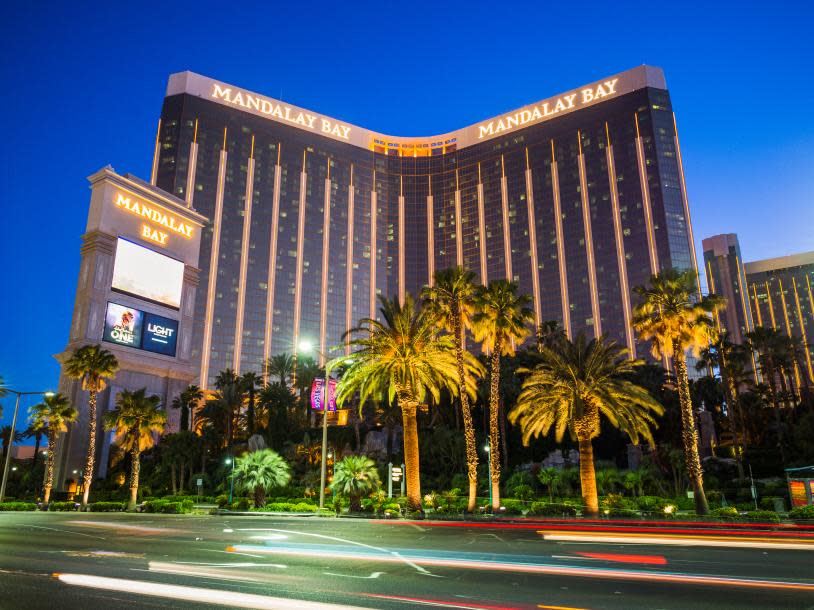 Total Sq. Ft.: 2,013,697

Sleeping Rooms:  3,209

Largest Mtg. Rm. Sq. Ft.: 861,231

Banquet Capacity: 4,200

Theater Capacity: 12,000

Largest Showroom Capacity: 12,000

Total Number of Showrooms: 4
For truly large groups, the—wait for it—2 million square feet of meeting space will make your corporate planning dreams come true. From executive gatherings to international conventions and trade shows, Mandalay Bay has the resources to make your Las Vegas event one that really gets people talking. 

Your next sales rally or corporate party could be at the same venue known for its headline concerts and world championship boxing events. And when you're not talking shop, there's plenty to do. For a little sun, Mandalay Bay Beach is it. For an amazing bite, chef Shawn McClain's Libertine Social will do. The list goes on, and so does the event space.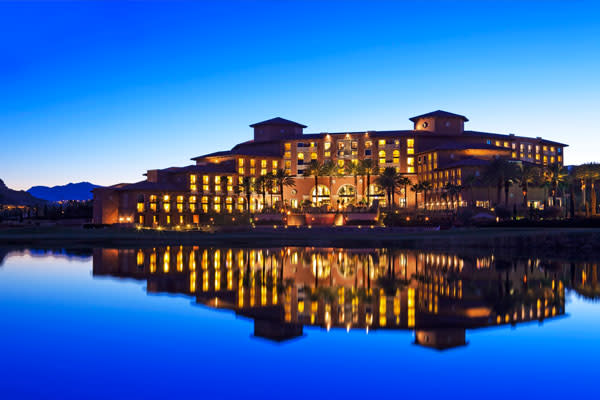 Total Sq. Ft.: 45,000

Sleeping Rooms: 493

Largest Mtg. Rm. Sq. Ft.: 55,000

Banquet Capacity: 1,500

Theater Capacity: 1,680
Who says you have to stay on the Strip to get the most out of your time in Las Vegas? The Westin Lake Las Vegas Resort & Spa is built to give you the best of both worlds—a serene setting to be truly productive, and a complimentary shuttle to all the Strip spots you'll want to check out after. That's the recipe for a Las Vegas meeting that is utterly unforgettable.
This full-service resort is capable of accommodating anywhere from 15 to 2,100 guests, and is completely customizable with lush green gardens, a terrace overlooking the lake, and much more. Book a dinner at the award-winning restaurant Marssa Steak & Sushi, which holds up to 125 guests.
Vegas is already a buzzworthy spot to plan your next corporate event. And all that meeting space? Now that's another thing worth