Bringing your business to Las Vegas provides value for your company's meetings and conventions that any other host city can't match. Here are five reasons why Las Vegas is the perfect place to move your team forward into a new era of business:
1. ROI BENEFITS: Doing business in Las Vegas promises a return on your investment in terms of both the availability and flexibility of our meeting spaces and the unique advantage that such a fascinating city offers. Our landscape inspires and motivates people to engage in imaginative thinking and creative business solutions.
2. WIDE VARIETY OF MEETING AND EVENT SPACE: There are many choices for state-of-the-art meeting venues: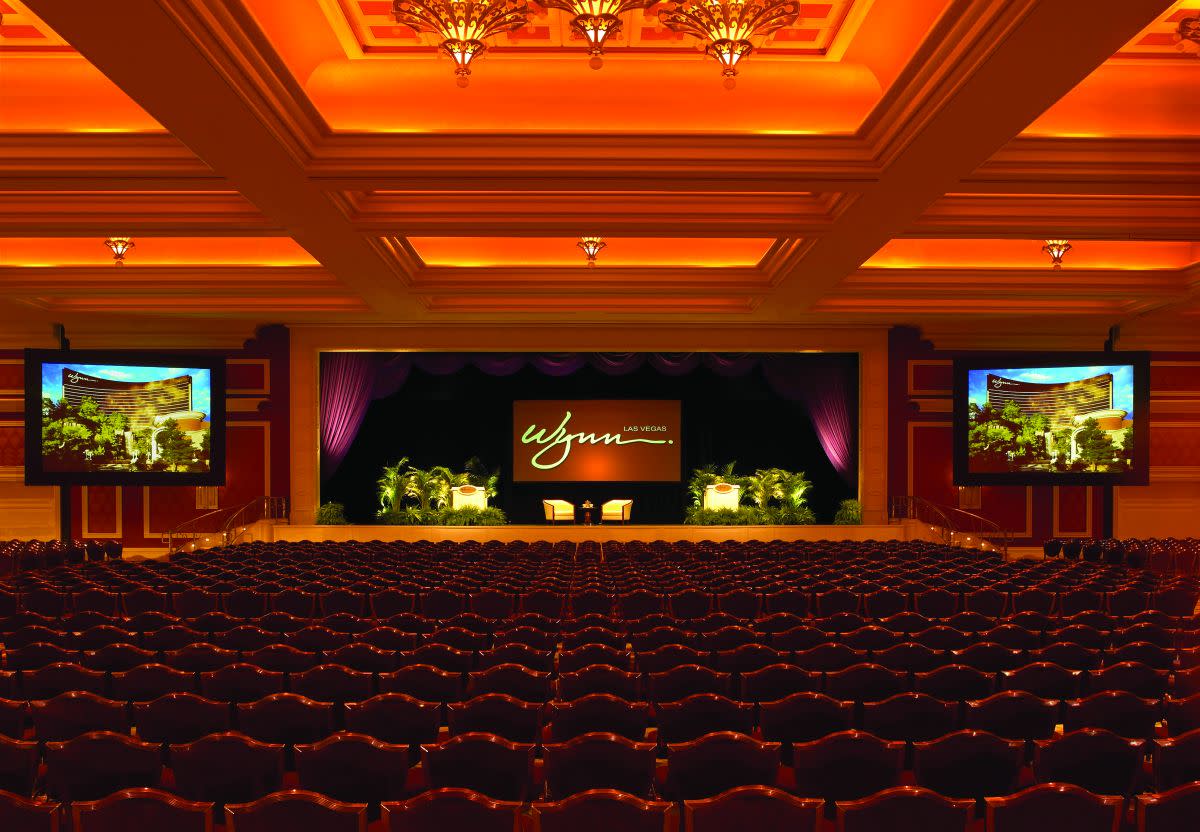 Wynn Las Vegas Lafite Ballroom
Venues and spaces can be configured and arranged to comfortably host sprawling trade shows, corporate events and banquets, or smaller gatherings such as workshops, lectures and training sessions with plenty of breakout meeting rooms available.

Smart digital technology and video-conferencing capabilities are all standard in our convention spaces. This combines in-person and remote connectivity, businesses will have everything they need to thrive and excel.

Intimate events can often benefit from settings that match the mood with more relaxed designs, inviting more expansive brainstorming among employees. There's the relaxed, intimate inspiration of the Ideation Studio at Park MGM Las Vegas. With its modern, living-room-style design of over 7,000 square feet, it features four meeting-room configurations that can accommodate groups of six to 24 employees. Its layout was created specifically to increase business collaboration and the flow of ideas. Additionally, consider the elegant, minimalist style of The Stella Studio at The Venetian Resort Las Vegas. With nearly 7,000 square feet, it features a neutral palette and natural light to suit small groups.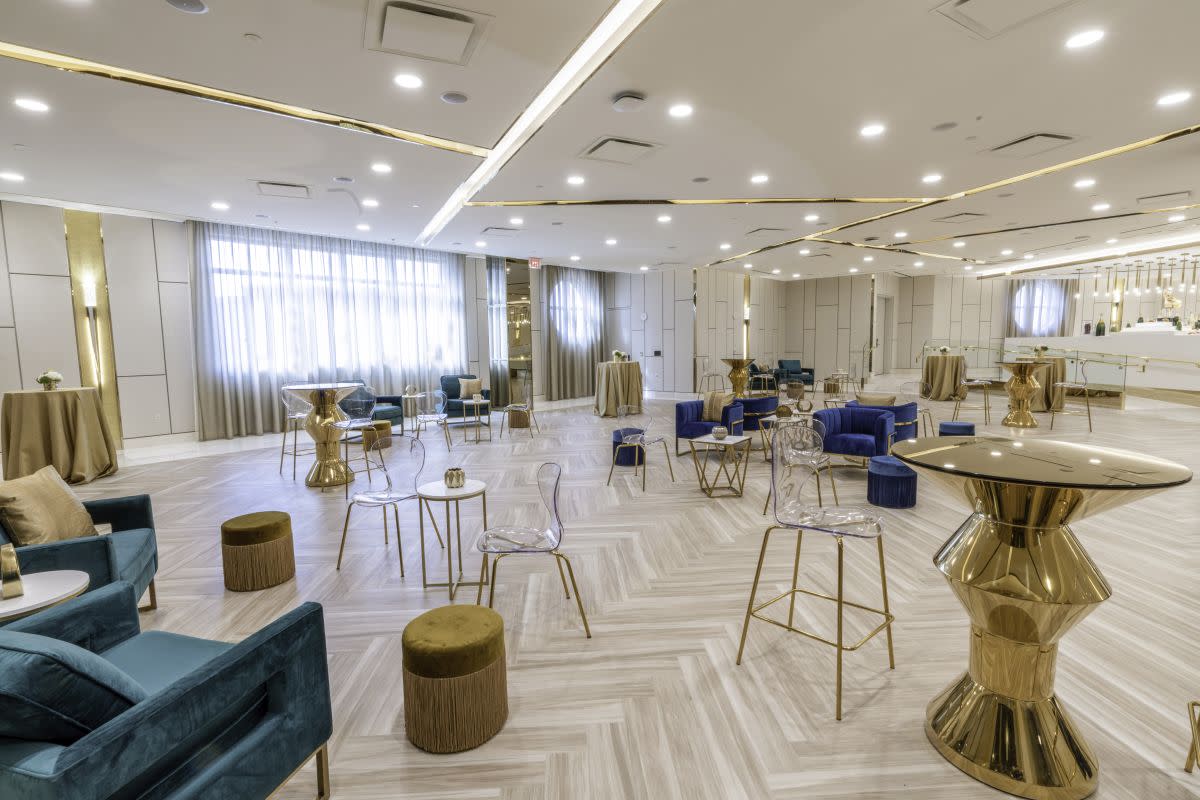 The Stella Studio
Larger venues that accentuate the attributes of Las Vegas' unique personality can inspire conference-goers to expand their creativity and imagination. A glamorous atmosphere can be found at The Smith Center for the Performing Arts, with its sleek art deco style in its roomy Founders Room for conferences or its spectacular Grand Lobby for receptions. And consider the stately grandeur of the Caesars FORUM Conference Center – including rental options like The Colosseum and Garden of the Gods Pool Oasis.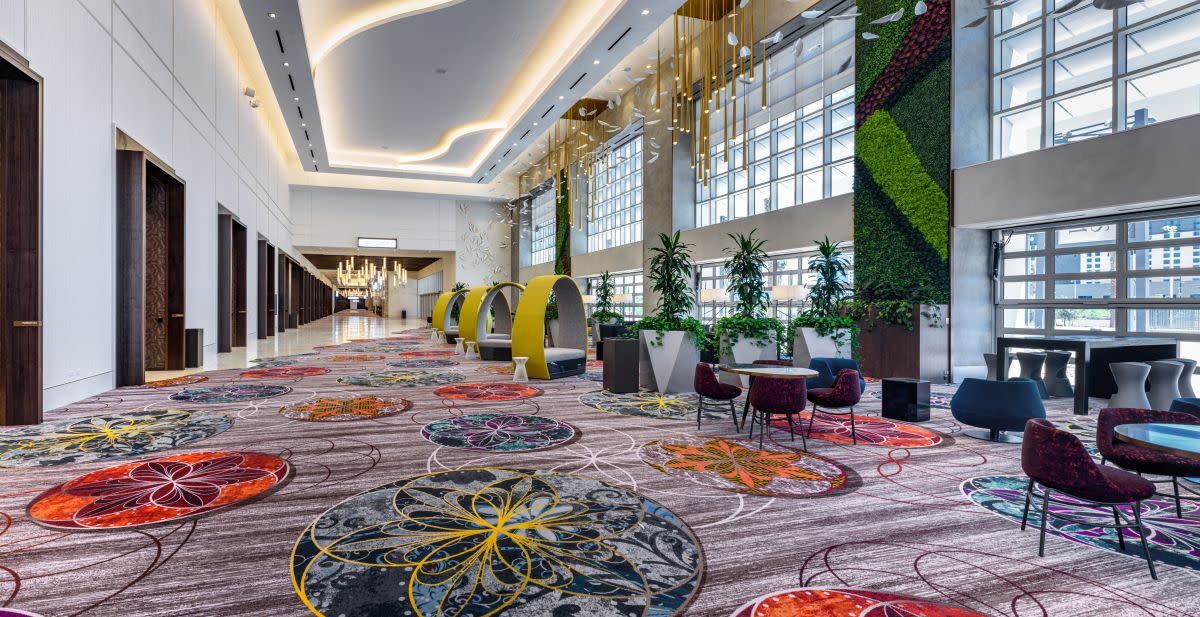 Caesars FORUM Prefunction Area
3. ALTERNATIVE VENUE CHOICES: Nontraditional types of conference sites can inspire employees and spur fresh ideas.
Gather at Topgolf (hosting capacity: 2,000), where camaraderie and a shared love of the game create a team-building atmosphere amid versatile event spaces.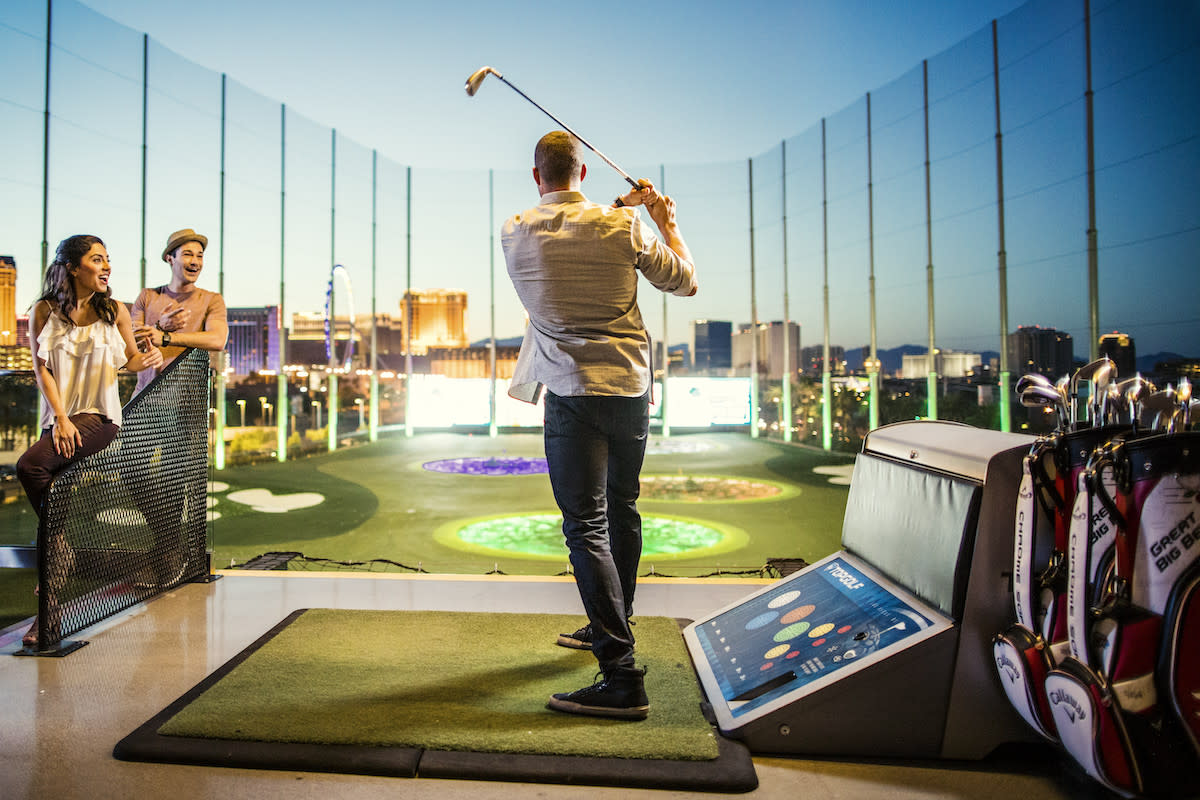 Topgolf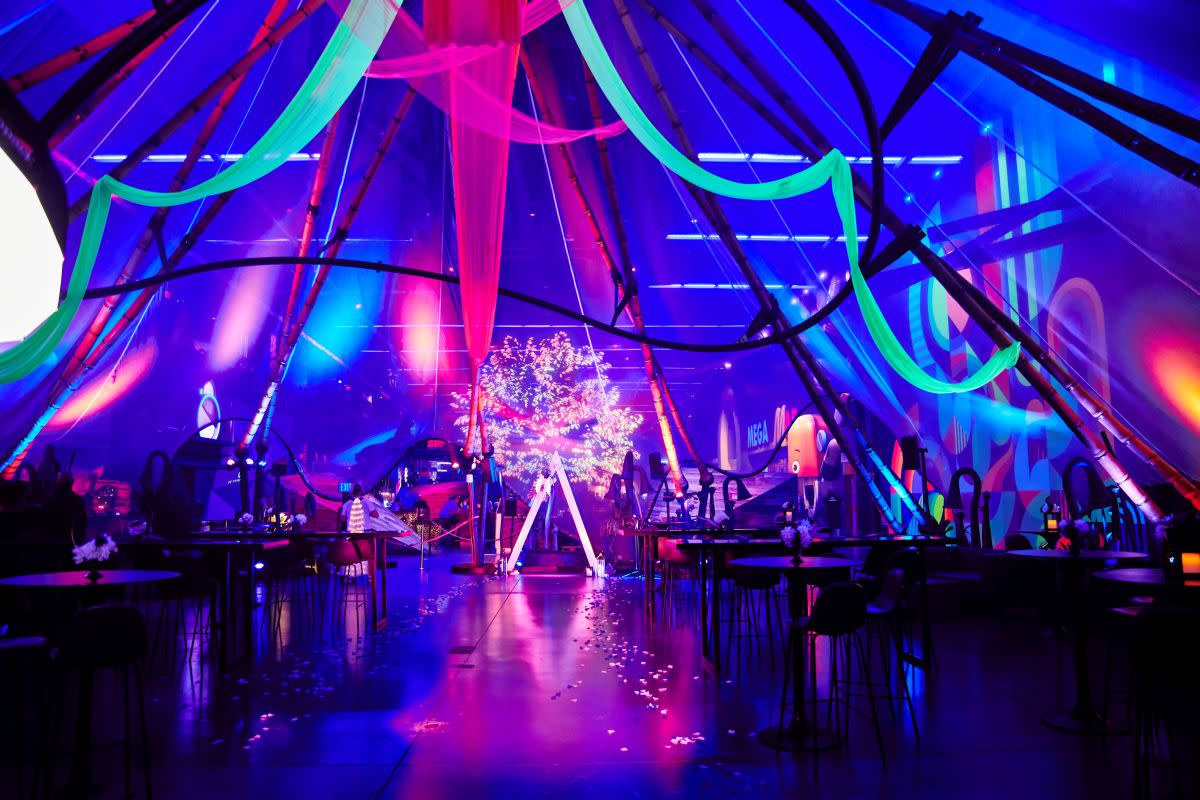 AREA15
4. MEMORABLE POSSIBILITIES: Las Vegas has an abundance of sites and opportunities for creativity to be enhanced beyond a conference space or enclosed venues.
Sample the stunning cliffs and roaming wildlife at the Valley of Fire. A one-hour drive from Las Vegas, it's a gorgeous attraction where your workers can take in natural wonders and let their imagination run free – and it's a perfect setting in which people can bond. Consider taking a company trip to historic Springs Preserve, enjoying the wonders of its nature retreat and indoor exhibitions. Also, the rugged trails of Red Rock Canyon are ideal for hiking, as employees can split off into hiking teams and help each other navigate the wooded pathways, encouraging a teamwork atmosphere.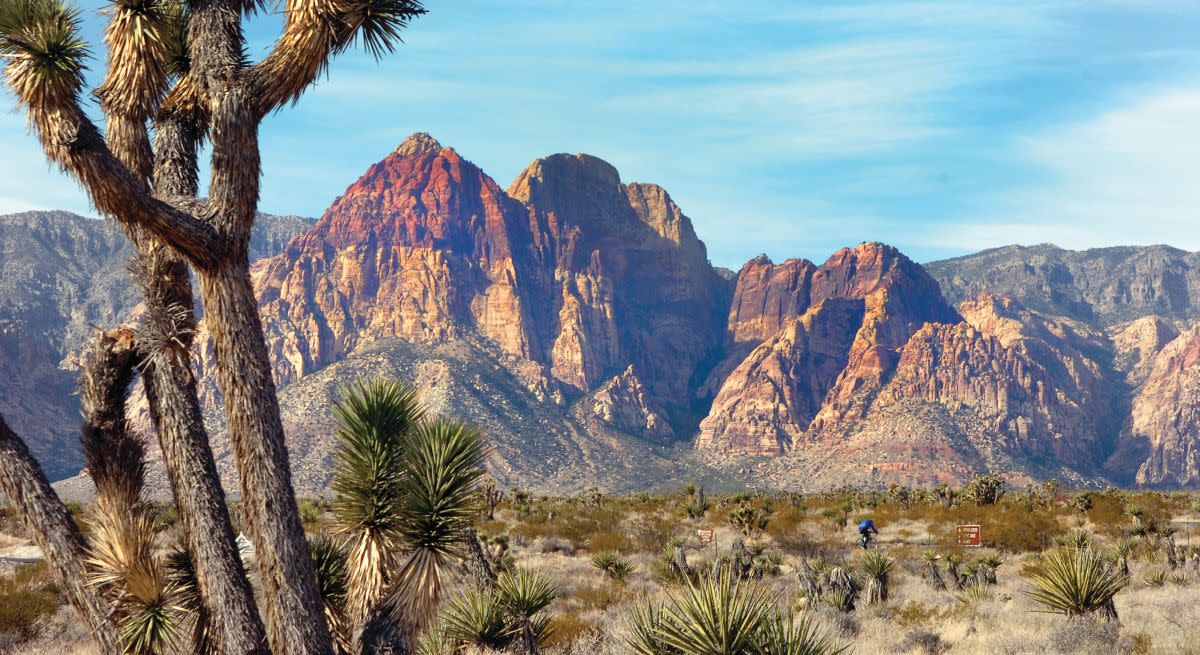 Red Rock Canyon
5. EASY WAYS TO GET AROUND: Transportation options are easy, convenient and plentiful.
Harry Reid International Airport is just 2 miles from the Strip, 3.5 miles from the LVCC, and within a 15-minute drive of most hotels.

The Las Vegas Monorail arrives every four to eight minutes at each of the seven Strip stations.

Vegas Loop at Las Vegas Convention Center provides fast rides across its campus and to nearby transportation hubs for convention and trade show attendees. Connecting the West Hall to the existing North, Central and South halls, it features four passenger stations and can transport more than 4,400 people per hour across campus. Walking between the West and North/Central halls can take up to 25 minutes. On the Vegas Loop at Las Vegas Convention Center, that transportation time is two minutes.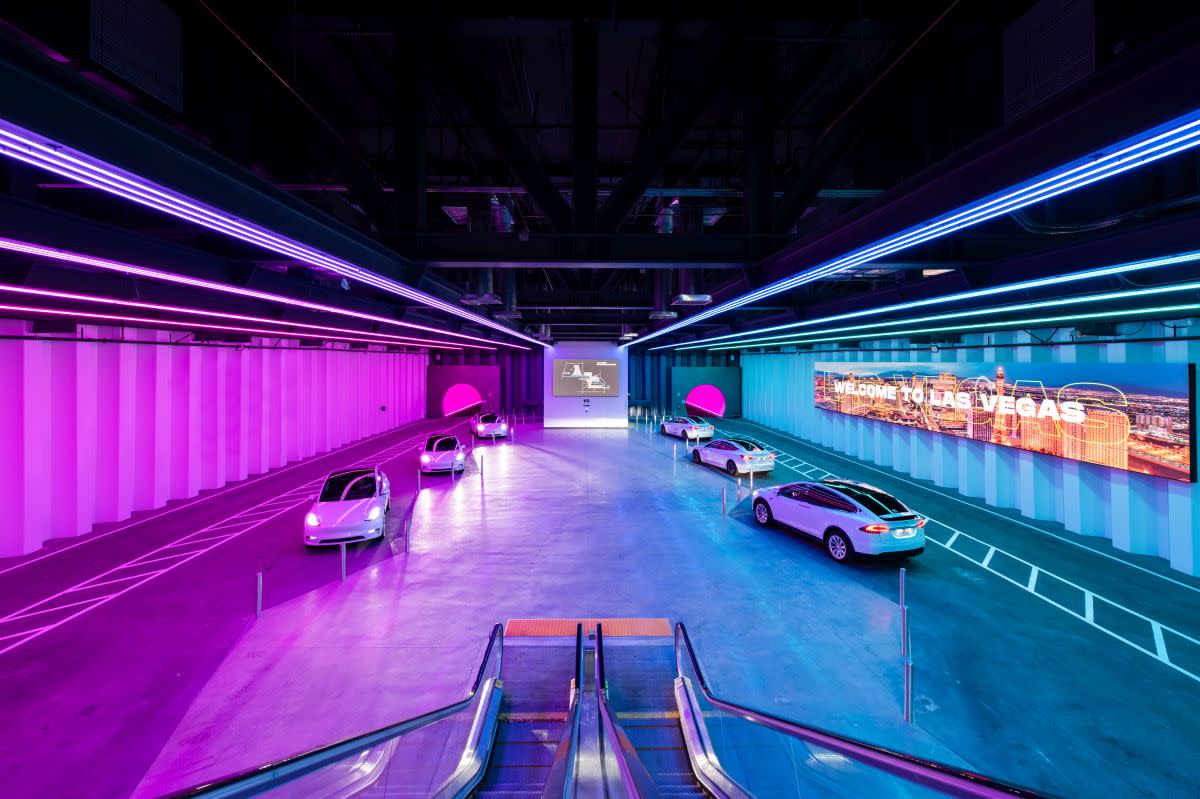 Vegas Loop at Las Vegas Convention Center
Vegas is moving business forward. If you're not here, you're missing out. We ensure that every attendee's meeting success is a top priority. With unparalleled world-class amenities and venues, strategic location, dynamic networking and team-building opportunities, Las Vegas sets itself apart as a premier business destination.